EAST GREENSBORO, N.C. (Sept. 11, 2023) – Year after year, students at North Carolina Agricultural and Technical State University are sought by large and small, domestic and international companies, corporations and programs to fulfill positions of need. The annual career fair is a main recruitment avenue. The Office of Career Services (OCS) at N.C. A&T will host the 49th Career Fair Wednesday, Sept. 13, 10 a.m. – 4 p.m. Additionally, a virtual career fair will be held Thursday, Sept. 28, from noon to 5 p.m.
With over 400 employers and 1,077 representatives, the annual career fair has grown exponentially resulting in three fairs occurring simulataneously across campus based on college and major. Nevertheless, students may attend any of the fair sites regardless of major. Employer participants, locations and full career fair details are available via the Office of Career Services website.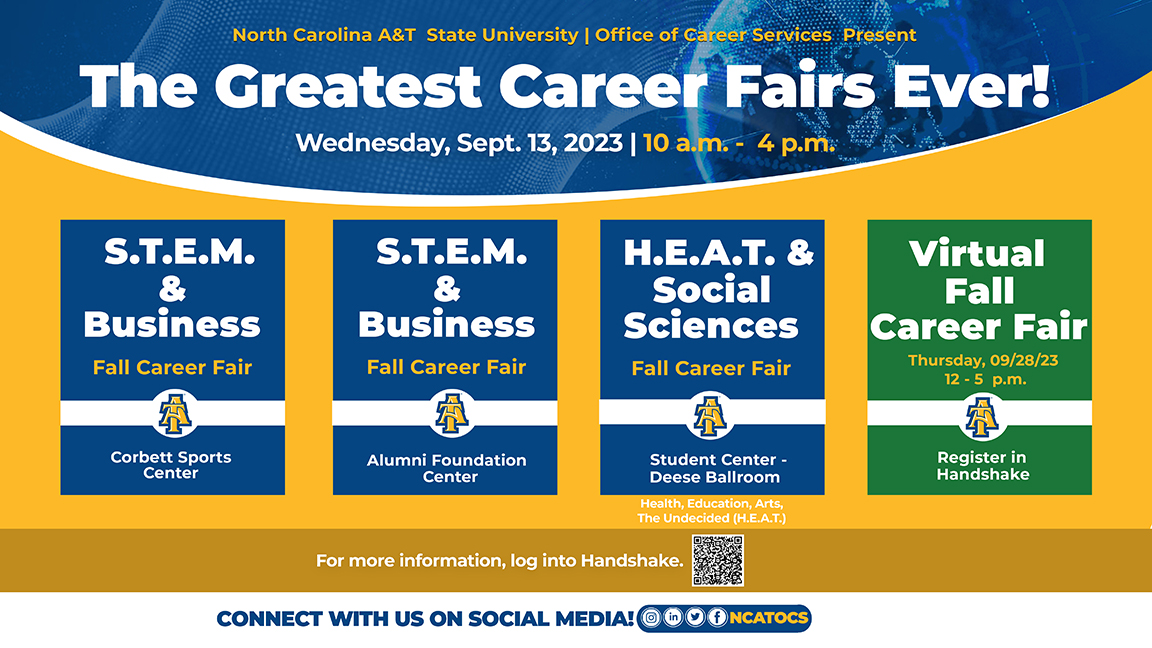 Each year top companies vie for the opportunity to speak with bright, ambitious A&T students, many scheduling interviews and hiring on the spot for internships, co-ops and full-time employment. This year is no different. Students will have the opportunity to engage with leading employers such as Amazon, Lockheead Martin, Toyota, AT&T and more. Many municipalities, federal agencies, state entities, school systems and nonprofits are also slated for attendance. Complete lists of employers, their locations and booth numbers are available online, via the student Handshake portal.
Prior to the fairs, OCS worked with partners to offer students resume critiquing, elevator pitch suggestions and more. By participating in pre-career events and/or the career fair, students can win scholarships and other exciting prizes.
OCS offers a wide range of programs and services for students, employers, faculty/staff and alumni. The office provides more than 55,000 position announcements to campus yearly, resulting in many students accepting positions and employed in their fields upon graduation and why A&T alumni early career earnings are among the best of any campus in the University of North Carolina System.