EAST GREENSBORO, N.C. (Aug. 17, 2023) – North Carolina Agricultural and Technical State University announced its selection of "Viral Justice: How We Grow the World We Want" by acclaimed author Ruha Benjamin, Ph.D., as the Text-In-Community (TIC) read for the 2023-24 academic year.
This thought-provoking book will serve as a cornerstone of intellectual engagement and discussion throughout the campus, inviting students, faculty and staff to navigate through the structures of racial disparity and social inequality.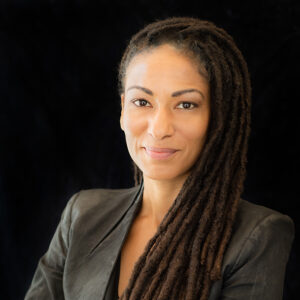 Benjamin is the Alexander Stewart 1886 Professor of African American Studies at Princeton University and founding director of the Ida B. Wells Just Data Lab. She is widely recognized for her interdisciplinary research, focusing on the social dimensions of science, medicine and technology. Her work has been instrumental in advancing conversations about the intersection of technology and race, and her expertise has been sought after by academic and policy circles alike.
"Viral Justice: How We Grow the World We Want" delves into the intersection of technology, race and social justice, offering a compelling examination of the challenges and opportunities presented by our increasingly interconnected world. Benjamin explores the vast inequities of our nation's health care system, predatory inclusion and implications of technology in shaping society. The book challenges readers to critically reflect on how technology can either reinforce existing systems of inequality or serve as a catalyst for transformative change.
N.C. A&T will announce plans later for an upcoming public event featuring Benjamin as keynote speaker.
"I look forward to the discussions that will take place around topics such as race, social injustice, our nation's health care system and the impact of technology on our society," said Harvey Long, assistant professor and student success librarian.
Long is co-chair of the Text-in-Community Committee along with Briana Hyman, Ph.D., teaching assistant professor in the Department of History and Political Science.
"Embracing these conversations will lead us to a deeper understanding of the complexities that define our world and empower us to collectively shape a more just and equitable future," Hyman said.
A&T introduced the TIC program in 2003 to foster meaningful and relevant discussions throughout the campus community. The first selection, "The Souls of Black Folk" by W.E.B. Du Bois, sparked conversations surrounding the African American experience – addressing progress, challenges, and future prospects – a century after its original publication. The program is hosted by the College of Arts, Humanities and Social Sciences, along with the Division of Student Affairs.
A&T's previous campus reads include:
"The State Must Provide: Why America's Colleges Have Always Been Unequal – And How to Set Them Right" by Adam Harris
"Just Mercy" by Bryan Stevenson
"The New Jim Crow: Mass Incarceration in the Age of Colorblindness" by Michelle Alexander
"The Other Wes Moore: One Name, Two Fates" by Wes Moore
"Mens et Manus: A Pictorial History of North Carolina Agricultural and Technical State University" by Teresa Styles and Valerie Nieman
"I Am Malala: The Girl Who Stood Up for Education and Was Shot by the Taliban" by Malala Yousafzai
Students will receive a copy of the common read through the New Student Programs Office. Faculty and staff members interested in receiving a copy are asked to complete this form.
Media Contact Information: mcrowe@ncat.edu
Headlines, All News, College News