EAST GREENSBORO, N.C. (June 21, 2023) – North Carolina Agricultural and Technical State University alumna Ezana Tamrat '23 is one of three recent graduates of the University of North Carolina System who will serve as Presidential Scholars for the 2023-24 academic year.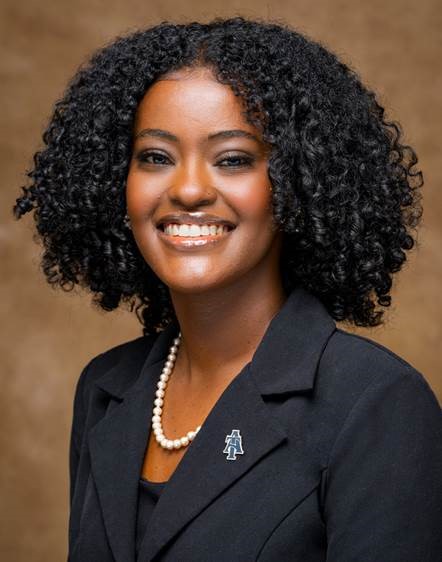 Born and raised in Addis Ababa, Ethiopia, before her family moved to Arlington, Virginia, Tamrat graduated cum laude in May with a B.A. in political science as a first-generation college student. While serving as N.C. A&T's student body president for 2022-23 and ex-officio member of the Board of Trustees, she worked to improve mental health resources, address food insecurity and celebrate campus diversity among students.
Tamrat also served as Student Government Association sophomore class president for 2020-21, public relations chair for the university's chapter of the National Black Law Student Association and a member of Alpha Lambda Delta Honor Society. Additionally, she interned with the bipartisan organization Students for Justice, which aims to increase voter registration throughout the East Coast.
After serving as Presidential Scholar, Tamrat plans to earn a Juris Doctor and practice international law, helping families with the process of obtaining citizenship and temporary residence as well as working to make the process swift and fair.
Presidential Scholars serve a one-year appointment and provide a wide range of professional functions for the University of North Carolina System Office. They interact with the president, Peter Hans, his senior leadership team and members of the UNC Board of Governors. They also work in areas including education, public policy, research and strategic initiatives that affect higher education.
The scholars were selected from a competitive pool of applicants who demonstrated leadership skills, intellectual curiosity and a strong interest in higher education and public service.