EAST GREENSBORO, N.C. (May 2, 2023) – Kennedy Reid has been named North Carolina Agricultural and Technical State University's first Thomas R. Pickering Foreign Affairs Graduate Fellowship Program recipient.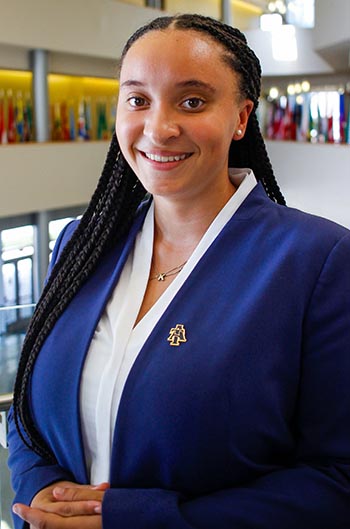 Reid will graduate May 13 with a B.S. in economics with a law concentration from the Willie A. Deese College of Business and Economics. She received the University Award for Academic Excellence during N.C. A&T's Spring 2023 Honors Convocation, when she served as student speaker.
The Greensboro, North Carolina, native also was the sole recipient of the Eve Marie Carson Servant Leader Award, which is bestowed annually by the University of North Carolina Association of Student Governments to one or more students who exemplify the characteristics of a student leader.
Reid matriculated at A&T as a Cheatham-White Scholar and founded the Cheatham-White Mentorship Program as a member of the University Honors Program, which became the Honors College in October 2022, while maintaining a 4.0 GPA. She serves as 100 Collegiate Women president Honors Ambassador, past Honors Student Advisory Board president, vice president of both the Aggie Economics Association and campus outreach for the UNC Association of Student Governments, and networking chair for the National Black Law Students Association.
"A&T and the Honors College have helped me become the person that I have always been meant to be," said Reid, who is also the university's first Pickering Graduate Fellowship finalist. "Coming to A&T has allowed me to find and fulfill my purpose of helping those around me have all the tools to succeed. This passion and purpose will drive and motivate me to always represent America to the best of my abilities and ensure everyone has their tools to success."
Reid plans to represent the United States on a global stage, starting with a career in the foreign service after completing her graduate degree as a Pickering Fellow. She has been admitted for the fall 2023 term to the M.A. in international development program in the School of International Service at American University, as well as the Master of International Affairs program at the School of International and Public Affairs at Columbia University.
"I am absolutely thrilled that Kennedy can pursue her dreams of a career in international affairs as a Pickering Fellow. Kennedy has organized and helped implement key initiatives since her first year in the Honors College, which coincided with the onset of the coronavirus pandemic," said Honors College Dean Margaret I. Kanipes, Ph.D. " As a result, she has strengthened our work in building a vibrant student-centered Honors community that helps students persist and thrive at the university. I have no doubts that Kennedy will continue to soar intellectually, professionally, and interpersonally as she enhances the world."
During her academic career at A&T, Reid was one of 20 students selected from a pool of more than 1,000 applicants to be named a 2021 Charles B. Rangel International Affairs Summer Enrichment Program Scholar. She was a 2022 Truman Scholarship endorsee, an Aggie Ambassador for the Office of Undergraduate Admissions and earned the 2021 Outstanding Honors Sophomore Award.
"Kennedy has systematically developed a strong foundation to prepare her for a career in foreign service. She is particularly interested in analyzing challenges associated with the allocation of humanitarian aid in developing countries and seeking ways to better promote economic stability and human welfare," said Scott Simkins, Ph.D., chair of the Department of Economics. "Her previous experiences, both personal and professional, have solidified her embrace of cultural diversity, focused her attention on global problem-solving, and informed her passion for making a difference for others around the world through service and policy. I look forward to seeing her not only represent North Carolina A&T State University, but also the United States of America."
Reid also served as the district intern for Congressman Mark Walker, collaborating with Walker and his team to handle constituency concerns, nominations, events, and policy issues. She introduced Assistant Secretary of State Gentry Smith during his presentation on the A&T campus for the 2022 Extraordinary Global Experiences (EGE) series, having met him at the inaugural EGE series in 2019. Additionally, she worked and volunteered extensively at her local YMCA as the head swim coach of the minority outreach swim team, the YMCA Bears.
"Kennedy has been impressively consistent with her work ethic, her academic performance, her relationship-building and her global engagement since I met her in her first semester," said Alsace-Lorraine Gallop, A&T's national scholarships and fellowships coordinator. "However, it is her demonstrated concern for peers, determination to help improve the lives of marginalized communities, and her dedication to effective servant-leadership which speak volumes about her character and her ability to help create positive change in the world."
Until 2017, the Thomas R. Pickering Fellowship also accepted applications from applicants in their sophomore year of undergrad. In the spring of 1994, Kendra Gaither '96 was selected for the Thomas R. Pickering Foreign Affairs Undergraduate Fellowship.
The Pickering Fellowship, named for one of the most distinguished and capable American diplomats of the latter half of the 20th century, is funded by the U.S. Department of State and administered by Howard University. The program attracts and prepares 45 outstanding young people annually for foreign service careers in the U.S. Department of State. Benefits include up to $84,000 to help finance a two-year graduate program, two summer internships, mentoring from a Foreign Service Officer and other professional development activities.
Reid applied for the Pickering Fellowship with support from NCAT Extraordinary Opportunities (NCAT EO), part of the Honors College and open to all A&T students and alumni. For more information, contact Gallop at acgallop@ncat.edu through mid-August ahead of fall deadlines for the Pickering Fellowship and related EO applications.