EAST GREENSBORO, N.C. (April 13, 2023) – The Department of History and Political Science at North Carolina Agricultural and Technical State University hosted visiting students and faculty of the U.S. Army War College's Eisenhower Series College Program (ESCP) on campus Wednesday, April 12. The highly selective program encourages its students, who are on a trajectory to become the Army's most senior leaders and advisors, to engage with two strategic issues related to national security over the course of a 10-month term, present these insights to communities across the nation and learn civilians' perspectives of the military and national security in efforts to increase understanding.
The visit began with a podcast recording hosted by N.C. A&T's Air Force Reserve Officers Training Corps (ROTC) detachment in Campbell Hall, named for Lt. Robert Lee Campbell – a recipient of the Distinguished Service Cross and the first to receive a professor of military science appointment at A&T.
Event organizers professor Ernest Hooker and Army ROTC Cadet Avery Collins joined Army War College faculty member Lt. Col. Robert Greiner and his students Col. Dena Goble, Lt. Col. Nate Minott and Lt. Col. Kirk Daniels on a campus tour, including a stop at the February One monument. The group was fascinated by A&T's firm commitment to civil rights and social justice. They were also pleasantly surprised to learn that one of the A&T Four, Franklin McCain, wore his ROTC uniform while participating in the sit-in that would spark similar demonstrations in at least 250 municipalities during February 1960.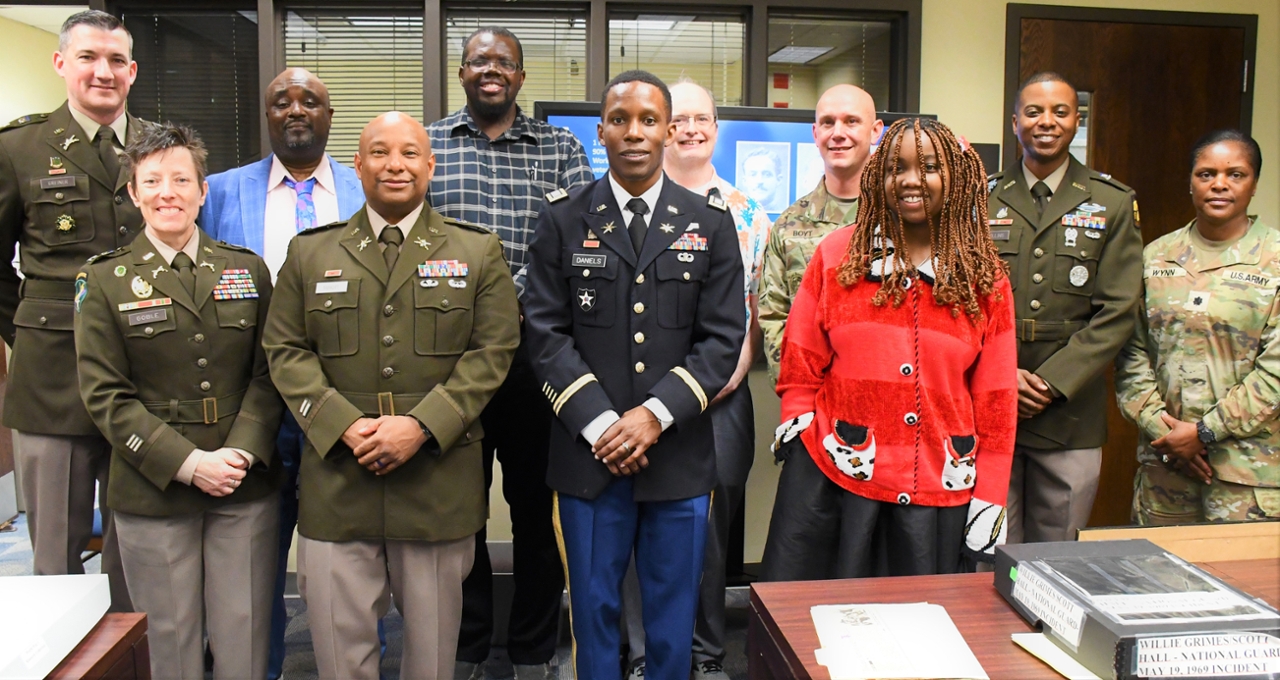 Joined by additional ROTC staff, the group also spent time in F.D. Bluford Library as Archives and Special Collections Librarian James Stewart highlighted the university's various connections to military history in an informal presentation and showcased numerous archival materials, including photographs of service members, newspaper clippings and ROTC recruitment pamphlets.
"We've had Aggies in the Spanish American War, the war in Iraq, so we want to document all of it and keep a record of names and interesting stories for anyone who is interested in the legacy," said Stewart.
Later in the afternoon, Greiner gave a brief history of the War College and ESCP before introducing his students and their respective discussion topics to audience members in the Academic Classroom Building.
Daniels presented "What Does a Woke Military Mean?" during the first session. He reflected on his time preparing to end his tour in Afghanistan in May 2020, while protests and demonstrations spread across America in response to George Floyd's murder. He was concerned about what his family was experiencing at the time, and what he might experience upon his return.
"During an impromptu meeting with my boss, he intuitively picked up on my concerns," said Daniels. "He allowed me to unpack my concerns about diversity in the Army, racial tension within our nation and my thoughts on inclusivity within our organization. It offered cultural awareness for the both of us, but quite frankly, it increased my motivation to serve."
Daniels continued with thoughts on diversity, equity, inclusion and accessibility prior to answering questions from the audience.
Goble reflected on "Strategic Empathy – Avoiding Unintended Consequences" and her experience assisting approximately 13,000 Afghani refugees, who initially arrived at Fort McCoy in Wisconsin, as they navigated the resettlement process.
"We didn't have the infrastructure built into our immigration system to be able to handle that, but we did have resources and opportunities available," said Goble.
Goble and her team shared multiple announcements to relieved families about when they would leave and where they were going with 98% accuracy. Through subsequent community discussions, they realized how the impact of the Army's "town crier" approach affected those who were still left unsure of their resettlement status.  
"What happened was we were doing things right, but we were not doing all the right things," Goble said. "My intent may be 100% on target with all the best intentions, but it may not be received that way, so we have to have strategic empathy and to understand action and reaction."
Goble encouraged audience members to learn "how to create a better peace."
Minott discussed his topic, "Can an Individualistic Society Produce Service-minded Citizens?" and noted that he often asks soldiers why they joined the Army and what keeps them motivated. He realized that educational and professional development opportunities, health care access and other "personal benefit attributes" were strong motivational factors, instead of the opportunity to serve their country.  
During his research, Minott reviewed a study and learned though there once was a correlation between low unemployment and the military having a hard time recruiting quality people and vice versa, the relationship was no longer linked as of 2007. However, there is a link to increased recruitment when there is a clear and present danger facing the American people.
"I've got to continue to develop those values, attitudes, attributes and behaviors that they learned in basic training in an environment that gives them a little more freedom," said Minott. "My view of the world is to try to motivate people in an individualistic society."
In the final session, Greiner presented Hooker and Collins with medallions, also known as challenge coins, with the Army War College crest and the slogan, "Not to promote war, but to preserve peace."