Cheerleaders Make H-I-S-T-O-R-Y in National Competition
By Jackie Torok / 04/20/2023 Athletics
EAST GREENSBORO, N.C. (April 20, 2023) – North Carolina Agricultural and Technical State University's Cheerleading Program has soared to new heights on the national stage.
N.C. A&T squad members made history as the first team from the university to compete in the National Cheerleader Association (NCA) & National Dance Alliance (NDA) College National Championship.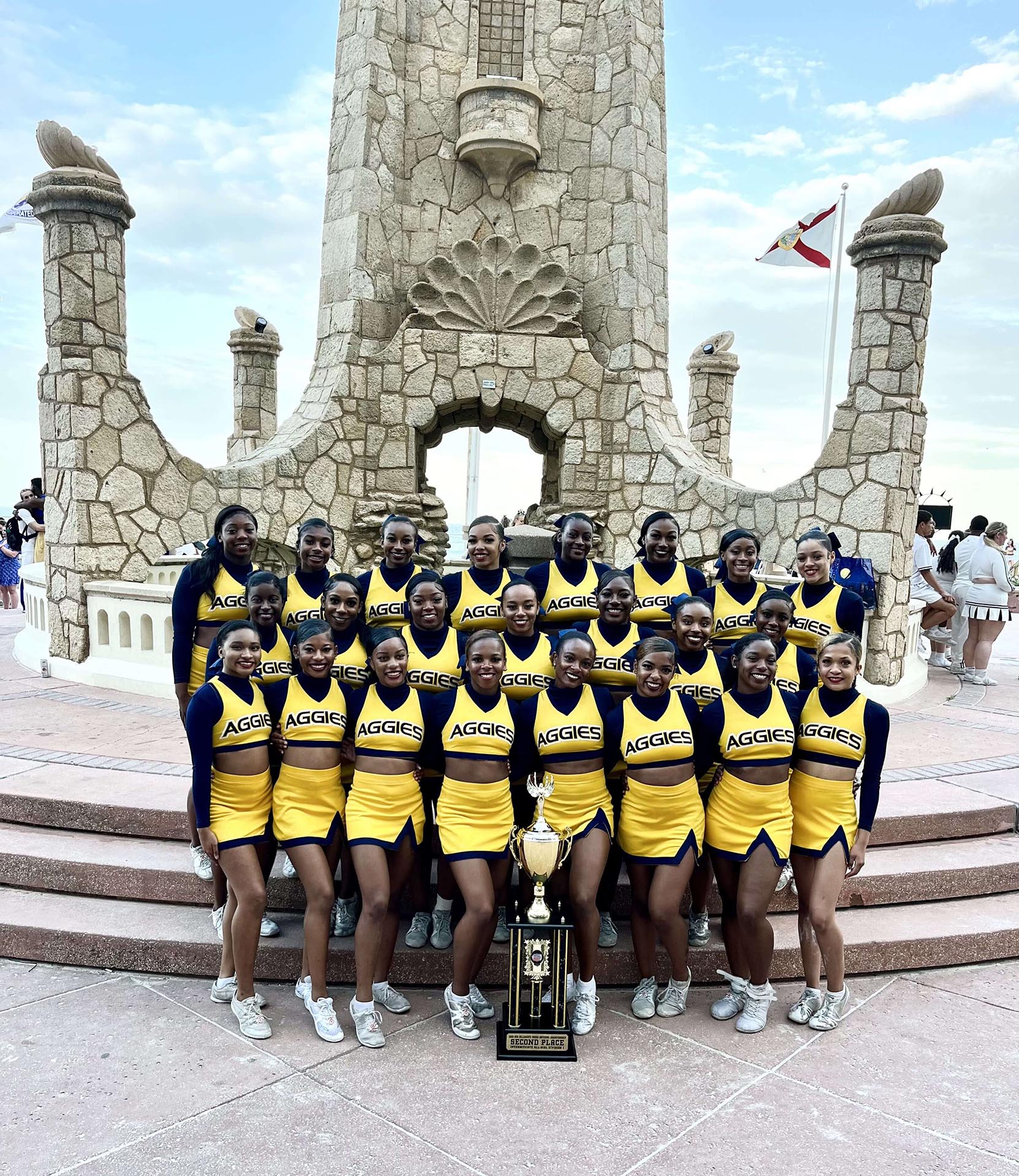 They also made their mark as the first squad in at least 20 years to represent a historically Black college or university (HBCU) from North Carolina in the event. Twelve HBCU teams participated.
With the Aggies' inaugural performances at the event, held this year April 6-8 in Daytona Beach, Florida, A&T's cheerleaders earned second-place honors, missing first place from among 21 teams by less than one point.
A&T also boasted the highest raw score in their Intermediate All Girl Division I's two days of competition and was among the top eight highest scores of all intermediate teams and top 10 highest scores of all at the competition – about 430 NCA and NDA teams.
Watch their routine here: https://www.youtube.com/watch?v=C5vqYBXjAso
"We put a lot of effort and work into preparing for nationals. We practiced literally every day of the week," said co-captain Alivia Barrow. "It's really rewarding to be able to put in that work and to represent Greensboro and to represent A&T the way we do."
The A&T cheerleading squad is a highly visible group, designed to build humble, strong and competitive student athletes who are active in the community and serve as positive representatives of the university. Its athletes participate in game-day activities and events such as the Greatest Homecoming on Earth, as well as competitions throughout the year.
The 2022-23 squad members are co-captains Barrow, Iycess Hooper and Vashtaii Strong, Alexander Baggett, Santana Baker, Jade Barnes, Sari Barnes, Alexis Black, Madisyn Burnette, Jasmynne Carter, Kayla Chiles, Janiya Croxie, Nia Fletcher, Carmen Haywood, Ania Hill, Jaida Hines, Nariyah Hough, Milani Kimble, Tanasia Lemon, Jacquelyn Person, Carter Powell, Aniyah Rainey, Trinity Rascoe, Rozalynn Smith, Jordyn Sosa, Jaimee Standfield, Kennedi Stevens and Kai Ward.
Daniel Kearns-Pickett, the Aggies' head cheerleading coach, said it was a dream come true to take his squad to the national event, where he had competed as a college student.
"It's a phenomenal feeling. I'm very happy, very proud and looking forward to doing it again," said Kearns-Pickett. "To the Aggie community, thank you all for pouring into us and for believing in us, and our motto of being better than yesterday in every aspect – physically, emotionally and mentally. We always come back to make sure we are better and stronger and we look forward to bigger and better things in the future.
"Aggie Pride is nationwide."