N.C. A&T to Host HBCU Heroes "Secure the Bag" Event on March 23
03/21/2023 Students
EAST GREENSBORO, N.C. (March 23, 2023) – North Carolina Agricultural and Technical State University will host HBCU Heroes' Secure the Bag Financial Literacy Tour & Career Fair Series with a two-part hybrid tour stop Thursday, March 23.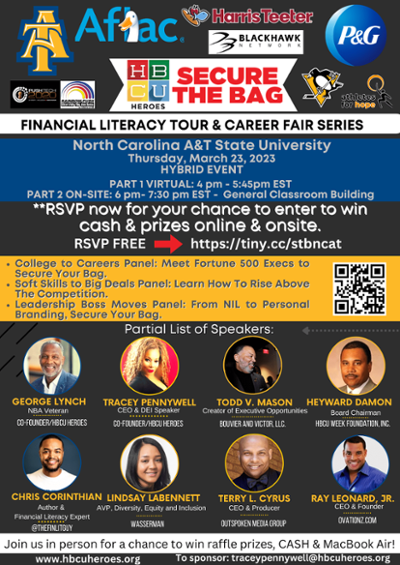 HBCU Heroes, a nonprofit that connects corporate America to historically Black colleges and universities (HBCUs), is offering interactive experiences, such as career and leadership panels with C-suite executives, both on campus and through a virtual webinar.
Part 1 of the event will take place via Zoom from 4 to 5:45 p.m., when recruiters from Fortune 500 corporations will engage in meaningful conversations about their career journeys as well as career pathways in their companies. An emphasis will be placed on how N.C. A&T and HBCU students nationwide can apply for jobs and internships.
Students will be able to participate in a virtual sports and entertainment panel that includes:
Janae Adams, CSE broadcast agent
Deborah C. Hoard, director and producer of "Move When the Spirit Says Move: The Legacy of Dorothy Foreman Cotton"
Delvina L. Morrow, vice president of community affairs and diversity, equity and inclusion for the Pittsburgh Penguins, a tour sponsor
Ray Leonard Jr., CEO of Ovationz and son of boxing legend Sugar Ray Leonard
Pete Nice, Universal Hip Hop Museum co-chief curator, music producer and member of award-winning hip hop group Third Base
Serv-On, platinum recording artist with No Limit Records, rapper and entrepreneur
Additionally other panels for the virtual portion include an array of speakers via interactive discussions on name, image and likeness, personal branding, soft skills and creating generational wealth including:
Joseph Bryant Jr., D.Min., executive director of the West Coast - Silicon Valley/Bay Area chapter of Rainbow PUSH Coalition, a tour sponsor – founded by the Rev. Jesse Jackson Sr. '64 – that is providing a MacBookAir as a giveaway during the event
Event host CDK on The Mic (Christian Kornegay '22), 102 Jamz radio personality and area host for the Charlotte Hornets Greensboro Swarm
Chris Corinthian, founder and CEO of FinLit University LLC
Kathryn Crittenden, early career programs specialist at SiriusXM
Terry L. Cyrus, founder and CEO of Outspoken Media Group
Heyward Damon, HBCU Week Foundation Inc. board chairman
Author, podcaster and business owner Dewayne Hart
David Horton '97, J.D., attorney, author and owner of Ayantee.com
Alexis McGill '19, senior operations department manager at Procter & Gamble, a tour sponsor offering gift bags and brand products during the event
Danita Rucks Oliver, global head of diversity, equity and inclusion for Blackhawk Network, a tour sponsor which is giving away two $500 gift cards during the event
HBCU Heroes' co-founders Tracey Pennywell, CEO of Switch Media, and George Lynch, NBA veteran and 1993 NCAA champion from the University of North Carolina at Chapel Hill
Todd V. Mason '94, Aflac national public sector and diverse agency consultant for Bouvier and Victor LLC, a tour sponsor
Part 2 is scheduled from 6 to 7:30 p.m. in General Classroom Building Room 218, where as many as 300 students will participate in interactive panels on job preparedness, leadership, entrepreneurship and financial empowerment.
Third-generation Aggie Lindsay LaBennett '05, assistant vice president for diversity, equity and inclusion at Wasserman, is among those who will be present for Part 2.
"I'm honored to support HBCU Heroes and their consistent commitment to exposing HBCU students to job opportunities and information to help them navigate their post-college careers," said LaBennett. "Returning to my alma mater and sharing my experiences with Aggies is such an amazing opportunity. Being of service to the next generation is what Aggie Pride is all about."
Those joining LaBennett, along with Mason, as speakers during Part 2 include Jaelen Gilkey '17, sports reporter/anchor at WFMY News 2; Raquel Teasley '11, manufacturing engineer at Proctor & Gamble; and Ken Barton, senior vice president at Bank of America.
HBCU Heroes' partnership with Aflac is financial, volunteer-employee based and focused on social impact. Throughout 2023, Aflac representatives will participate from keynote speakers to recruiters. Aflac's support also includes activations and leadership panels on campus at select HBCUs with a virtual presence at others. Aflac is interested in hearing students' perspectives and creating a mutually beneficial pipeline to applicants for internships and job opportunities.
"Our plan is to share our entrepreneurial stories of how we were able to create generational wealth for our families as well as what it takes to lead at the executive level," said Mason. "It is paramount to show our community that people who look like us can prosper in different, non-traditional careers such as insurance. Financial literacy is more than just knowing, it's executing in an environment that creates a pathway to sustained wealth."
To RSVP to the Secure the Bag tour stop at A&T, go to tiny.cc/stbncat.
Drop résumés for recruiters at https://tinyurl.com/STBTourVirtualRSVPResumeDrop.
Before the event, Pennywell, Lynch and Mason will speak to about 100 students at the weekly Family Dinner Night on Wednesday, March 22, at the Center of Excellence in Entrepreneurship and Innovation (CEE&I), where they will discuss the entrepreneurial mindset, leadership development, generational wealth and more.
"Financial empowerment is established from the dinner table of an intentional family. Our center made financial empowerment a pillar for our students to one day instill in their homes for generations to come," said Joel Wiggins, CEE&I's interim executive director and entrepreneur-in-residence. "Who you give your money to, you give your power to."
The HBCU Heroes and Aflac teams also will provide a workshop for A&T mass media students spearheaded by lecturer David Squires during his public relations writing class. Students also will be encouraged to attend and cover the event.
HBCU Heroes is also partnering with Harris Teeter and P&G, which are sponsoring the A&T Tour stop with an assortment of giveaways and gift bags for students.
"We are committed to creating better lives for our consumers, and Harris Teeter is dedicated to supporting their communities," said Jeff Havermann, senior account executive at P&G.
A partnership with Athletes for Hope (AFH) will assist HBCU Heroes by connecting professional, Olympic and Paralympic athletes as speakers throughout the tour. AFH's Founding Athletes include the late Muhammad Ali, Mia Hamm, Warrick Dunn, Jackie Joyner-Kersee, Alonzo Mourning and seven other elite athletes who share an unparalleled commitment of time, energy, and resources to various charitable causes.
AFH educates, encourages and empowers athletes to find their passions and use their time to positively engage with their communities. Its athletes will speak during the tour on topics such as overcoming adversity, entrepreneurship, financial literacy, career journeys and more.