EAST GREENSBORO, N.C. (Dec. 9, 2022) — Chantel Y. Simpson, Ph.D., a professor at North Carolina Agricultural and Technical State University, has been appointed to an Environmental Protection Agency committee that provides policy recommendations on environmental issues affecting agriculture and rural communities.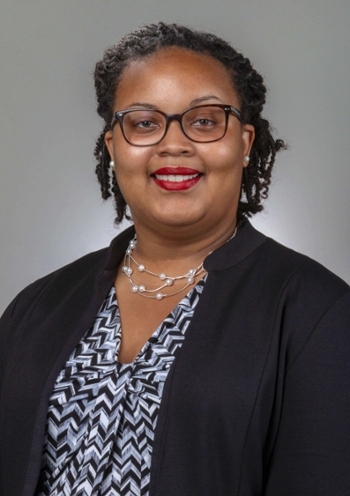 Simpson will serve a three-year term on the Farm, Ranch and Rural Communities Federal Advisory Committee. The EPA announced in November that she was one of 20 new and returning committee members selected from more than 85 applicants.
Simpson said the appointment combines her academic and professional expertise in agricultural education with her personal background of growing up on a Rockingham County, North Carolina farm.
"Serving on this committee is the perfect marriage between those two fields and the things I am passionate about," she said. "I want to bring the voices of small farmers, rural residents and agricultural educators to the table so they can have a say in the policies and programs that affect them."
Simpson earned her bachelor's and master's degrees from A&T and a doctorate in agricultural, leadership and community education from Virginia Tech. She joined the A&T faculty in 2019 as an assistant professor of agriscience education in the College of Agriculture and Environmental Sciences.
FRRCC will focus in coming years on climate change. The committee got a new charge in 2022 to examine EPA policies and programs that affect the agency's efforts to help farmers and ranchers reduce emissions and create a more resilient food and agriculture system.
"Climate change is a big issue," Simpson said. "Our climate is not as dependable. Our winters are not as cold. Our summers are hotter and drier. A number of precipitating issues arise based on how the climate has changed."
Simpson's appointment will give a voice to historically Black land-grant universities in Washington, D.C., said Mohamed Ahmedna, Ph.D., dean of A&T's College of Agriculture and Environmental Sciences (CAES).
"I continue to be proud of the work being done in the College of Agriculture and Environmental Sciences and pleased to see that 1890s institutions like A&T are represented on this advisory committee," Ahmedna said. "Dr. Simpson's appointment is important to the university and the constituents we serve across our state and nation."
Michael S. Regan, a former secretary of the N.C. Department of Environmental Quality and a 1998 CAES graduate, serves as EPA administrator. He is the first Black man and first alumnus of a historically Black university to lead the EPA.