EAST GREENSBORO, N.C. (Dec. 13, 2022) – Four North Carolina Agricultural and Technical State University students are members of the 2022 cohort of scholars in the Bluford Healthcare Leadership Institute (BHLI), a program developed by N.C. A&T Board of Trustees Vice Chair John W. Bluford III to cultivate the next generation of health care leaders.
BHLI is an intense professional development program, offered in two phases, to cultivate a pipeline of diverse undergraduate talent for leadership roles in health care and eliminate disparities.
Sophomores Amaya Connor, of Richmond, Virginia, and Khelsei Dorsett-Wilson, of Snellville, Georgia, participated in BHLI Phase I in Kansas City for 16 days. They and their fellow scholars were recruited through a joint effort between BHLI staff and officials from the leadership, scholarship, honors and career placement programs of partnering universities, including A&T. They were required to possess a minimum 3.2 GPA and demonstrate leadership skills, along with two professional letters of recommendation and a personal essay detailing their career goals and interest in BHLI.
At the Phase I closing ceremony, teams of scholars delivered their case studies to BHLI board members, parents, supporters and community members. Connor's team examined whether the United States has a coordinated public health system, explained what a public health system does and who it serves, and identified innovative ways to expand and improve the public health system.
"My presentation team was passionate about bringing awareness of the need to expand public health services to Native Americans," said Connor. "I thoroughly enjoyed researching the topic with my team. What an opportunity to work with such hard-working individuals!"
Upon graduating from A&T with a B.S. in health services management, Connor plans to pursue a master's degree in health administration and a Juris Doctor, with the long-term career goal of owning a consulting firm that works with health facilities to deliver quality care, develop community outreach programs and make health care accessible to all.
Dorsett-Wilson's team explored the impact of violence on society and the health care systems of the nation and its communities, whether a coordinated local, state or national strategy exists to curb violence's impact, and identified the coalitions that would best coalesce to address the problem, with an emphasis on collaborative solutions.
"In addition to exposing our cohort to the impact of social determinants of health and the need to eliminate disparities in health care, the institute had a clear focus on developing us into well-rounded professionals," said Dorsett-White. "The experiences inspired me to continue pursuing my interest in law to make an impact on health outcomes through legislative advocacy. The Bluford Healthcare Leadership Institute has truly changed my life."
Upon graduating from A&T with a B.A. in liberal studies, pre-law, Dorsett-White plans to earn a joint Juris Doctor and Master of Public Health and use her passion for eliminating health care inequities and improving health outcomes by collaborating with policymakers and other experts in the field to revise policies that negatively impact minority and low-income individuals.
As part of BHLI Phase II, Connor, and seniors Cole Riley and Martin Searcy were placed in paid, full-time summer internships.

Connor interned in the infectious disease and immunology department at Quest Diagnostics in Secaucus, New Jersey. Her main project focused on disparities within pre-exposure prophylaxis (PrEP) access in the United States, and she was tasked with finding geographical areas where people should be using PrEP and determining how Quest Diagnostics can better partner with advocacy groups to increase high-risk populations' awareness of PrEP and its benefits.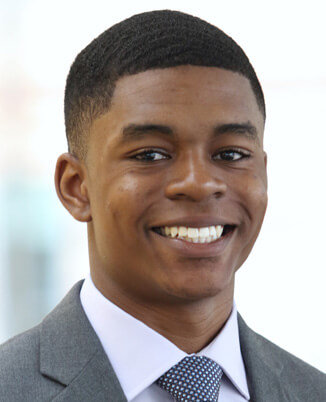 Riley, of Overland Park, Kansas, participated in the 2019 and 2021 BHLIs. He returned this year to Health Forward Foundation for a second summer internship with the foundation's director of policy and strategic initiatives. As a policy intern, he was charged with tracking legislation at the local level in Kansas City and Wyandotte County, Kansas. He recommended proposals from the State of Kansas Governor's Commission on Race Equity and Justice that could apply to the foundation's policy agenda. He also learned about the narrative change that took place between his two internship experiences and wrote and published a blog post for the foundation on that subject.
After earning his B.A. in political science, Riley plans to attend Harvard School of Law with a goal to serve in the field of public service. He would like to use his platform to reform the justice system by eliminating racial disparities in law enforcement, as well as health disparities.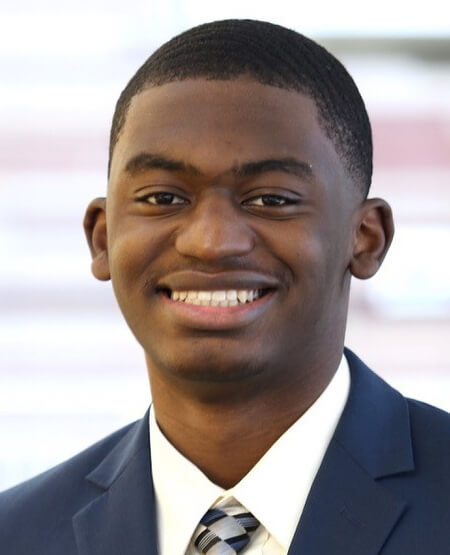 Searcy, of Shawnee, Kansas, participated in the 2020 and 2021 BHLIs. He interned in 2022 as a researcher in the laboratory of Sarah Zanders, Ph.D., vice dean of the Graduate School of the Stowers Institute for Medical Research in Kansas City, where he previously interned. He conducted medical research to learn about S. Pombe and how its centromeres help in understanding cancer cells. He focused on how the centromere size affects the fitness and division of the centromere and whether it is mating-type dependent. He prepared cultures and conducted competition assays, ddPCR, transformation, cytometry and pipetting. Additionally, he attended many talks with different principal investigators to understand the varying sciences under way at Stowers Institute, concluding his internship with poster and lab presentations.
Upon completion of his B.S. in bioengineering with a chemistry minor, Searcy plans to pursue his medical degree to become a practicing physician. He plans to build his own medical practice, leveraging his bioengineering background to develop medical breakthroughs for his patients. He is interested in building a healthcare system that will provide equitable care to vulnerable populations.
Twenty-nine A&T students have participated in BHLI since it was established in 2013, including Jonathan Alston, Tyler Baker, Diamond Butler, Thomas Clifton, Maximilien DeLeon, Elijah Evans, Mariah Franklin, Paulnisha Granger, Alexis Hawks, Nassir Holden, Carla Jones, Gregory Jones, Kayla Mayes, Avery Pardue, Briana Paris, Kailyn Price, Medinah Rashid, Myles Ross, Taylor Ross, Imanni Salters, Daniel Searcy, Alexandria Stanton, James Washburn III, Sakilae White and Teeghan Wiggins. Among this year's supporters were Atrium Health and Novant Health.