N.C. A&T Announces Creation of Honors College; Kanipes Named Dean
By Jackie Torok / 10/03/2022 Honors College
EAST GREENSBORO, N.C. (Oct. 3, 2022) – North Carolina Agricultural and Technical State University announces the creation of its Honors College, which will be led by Margaret I. Kanipes, Ph.D., as dean.
The Honors College marks a transition from the University Honors Program (UHP) launched in 1998 at the request of Chancellor Harold L. Martin Sr., who served as vice chancellor of Academic Affairs at the time, with a cohort of 50 high-achieving and exceptionally motivated undergraduates.
Since the Fall 2017 semester, when Kanipes became UHP director, the program has grown from 124 students admitted to 304 students admitted for the Fall 2022 semester, leading to an overall enrollment of more than 1,000 students.
"Honors colleges provide opportunities to enhance the competitiveness of a university, attract high-quality faculty and attract high-performing in-state students who want to attend a university that offers more personalized support, a transformative experience and fosters a strong sense of belonging," said Provost and Executive Vice Chancellor of Academic Affairs Tonya Smith-Jackson, Ph.D. "As an HBCU, N.C. A&T is providing an honors college that will produce scholars and innovators with advanced skills and knowledge to advance the human condition."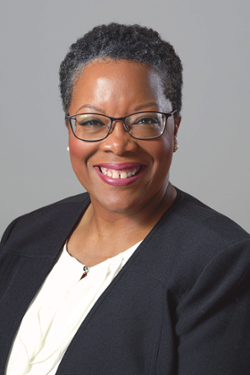 Kanipes, an A&T alumna and the fourth educator to lead the UHP since its inception, becomes the inaugural dean of the Honors College with a record of outstanding achievement in student success.
She began her career in academia as an assistant biology professor at Fayetteville State University where she served for three years. She returned to her alma mater as an associate chemistry professor in 2004, and several years later served as interim chair of the Department of Chemistry for four years. She went on to serve as director of the STEM Center of Excellence for Active Learning for a year and as a professor of chemistry, continuing to hold the latter position as UHP director.
As UHP director, Kanipes developed and implemented the Cheatham-White and February One Scholarship Enrichment Programs. Cheatham-White is a four-year scholarship available exclusively to A&T students and covers all costs of attending the university, while February One is a fully-funded award that covers the cost of tuition, related fees, housing, meals and participation in UHP activities for five first-year students each from the College of Arts, Humanities and Social Sciences, the College of Education and the John R. and Kathy R. Hairston College of Health and Human Sciences.
Additionally, Kanipes dramatically increased the number of honors students at the university, significantly boosted the program's endowments corporate funding and grants. She also implemented a tracking management system for students' participation in required lecture series and cultural events and increased both the enrollment of Honors students for travel abroad and student engagement overall.
In just the past three months, A&T was named a Fulbright Historically Black College and University (HBCU) Institutional Leader for 2022 because of the outstanding efforts of the UHP. The program also saw its first Goldwater Scholar to also be named an Astronaut Scholar, Tanae Lewis – the first student from an HBCU to receive this dual recognition. And Nasya Blackwell '20 was the first A&T student chosen to participate in the 2022 Princeton in Africa program as a Fellow with Emerging Public Leaders in Accra, Ghana for 2022-2023. Earlier in the year,  Shang Andrews was named the 2022 English-Speaking Union of the United States Luard Morse Scholarship winner – the university's first.
"I am confident that the momentum the University Honors Program has built under Dr. Kanipes' leadership will continue with her at the helm of the North Carolina A&T Honors College," said Martin. "Transforming UHP into our newest college enhances opportunities for students to participate in global experiences that foster innovation and create solutions to the challenges facing our society.  This aligns with our commitment to continuing to position the institution as a nationally recognized competitive university that recruits outstanding students to the university and prepares them for a rapidly changing global society."
During her career, Kanipes has secured an external portfolio of more than $13.1 million in grants from agencies such as the National Institutes of Health, National Science Foundation, Burroughs Wellcome , and North Carolina Foundation as principal investigator or co-principal investigator to support her research efforts in food-borne pathogen detection, broadening participation and STEM student success.
Kanipes earned the North Carolina Agricultural and Technical State University College of Science and Technology Merit Teaching Award and the North Carolina Agricultural and Technical State University Department of Chemistry Teaching Excellence Award in 2017, A&T's Young Investigator of the Year Award in 2007 and Summer Faculty Fellowship from A&T's Division of Research and Economic Development in 2006. She also received the Faculty Mentor-Minority Access National Role Model Award and American Society of Biochemistry and Molecular Biology Education Fellow in 2016, along with many other professional and academic accolades.
"I am honored to serve as inaugural dean of the North Carolina A&T Honors College and grateful to our university and its leaders for creating it," said Kanipes. "Truly, I am blessed with this opportunity to continue working with an amazing Honors team as we prepare and enrich the lives of our students, guiding them along their paths toward becoming thoughtful, committed citizens and global leaders. We are excited and ready to take the Honors College to heights never seen before – after all, that's what Aggies Do!"
Kanipes holds a B.S. in chemistry from A&T and Ph.D. in biological sciences from Carnegie Mellon University. She also was a Duke University Postdoctoral Fellow in biochemistry.
Burroughs Wellcome Fund
North Carolina GlaxoSmithKline Foundation