N.C. A&T's Giddings, Smallwood Named to 2022 Executive Leadership Institute
By Jackie Torok / 06/10/2022 Academic Affairs
EAST GREENSBORO, N.C. (June 10, 2022) – North Carolina Agricultural and Technical State University Interim Senior Vice Provost Valerie Giddings, Ph.D., and Interim Vice Provost for Undergraduate Education Arwin Smallwood, Ph.D., have been selected to participate in the University of North Carolina System's 2022 Executive Leadership Institute. This is the third cohort of the program, which is designed to build the next generation of top leadership from within the UNC System.
The Executive Leadership Institute works to share and leverage best practices by building collaboration among participants and their institutions. It includes a focus on enhancing the pool of well-prepared, highly qualified future leaders from Historically Minority-Serving Institutions. The 10-month program will provide an overall view of the UNC System, its operations and future leadership opportunities.
Giddings, who joined A&T in 2008, has twice served as associate professor and chair of the Department of Family and Consumer Sciences in the College of Agriculture and Environmental Sciences, most recently beginning in 2018. She also spent three years as the college's interim associate dean for research and has received more than $4 million in research funding for numerous projects with colleagues at A&T.
Giddings' experience includes serving as associate professor of art, interim Diggs Gallery director and associate vice chancellor for lifelong learning at Winston-Salem State University; associate dean for outreach and external relations, associate professor of clothing and textiles, and assistant professor, lecturer and Extension specialist/continuing education program coordinator at Virginia Tech; and clothing and textiles instructor at North Carolina Central University and Hampton University. A 2018 graduate of the N.C. A&T Executive Leadership Development Program, she holds a B.S. in home economics from Bennett College and an M.S. and Ph.D., both in clothing and textiles from Virginia Tech.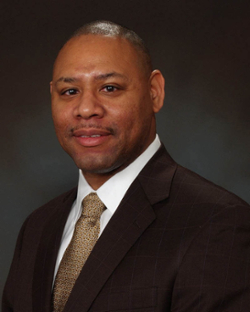 A professor of history, Smallwood has been chair of the Department of History and Political Science and is a Carter G. Woodson Distinguished Lecturer at A&T, which he joined in 2018. In February, he became the first A&T faculty member to receive the Gov. James E. Holshouser Jr. Award for Excellence in Public Service, one of the top two annual faculty awards bestowed by the UNC System.
After serving as a visiting history instructor at A&T from 1993-94, Smallwood taught at The Ohio State University, Bradley University and the University of Memphis. He has held graduate adjunct faculty status at the University of Memphis since 2013 and has been a North Carolina Humanities Council Road Scholar since 2017. He graduated from North Carolina Central with a B.A. in political science and cum laude with an M.A. in history, and from The Ohio State University with a Ph.D. in history.
"We have so much talent among our faculty and staff across the System," said UNC System President Peter Hans. "It makes sense that we put our time and resources into preparing new leaders for the university. The Executive Leadership Institute is an investment in our collective future."
Learning modules are designed to deepen expertise essential for success at the executive level. Three interactive and experiential immersion modules will be delivered via a hybrid of virtual and face-to-face instruction at A&T, UNC-Chapel Hill and UNC Charlotte over the course of the program. The team and individual executive coaching component will be provided in partnership with UNC Wilmington.
Upon completion of the program, participants will receive a certificate and the benefits of a mentoring relationship. Graduates will have the opportunity to pay it forward as mentors for future cohorts, ensuring promising talent continues to develop across the UNC System.