N.C. A&T Announces Interim Appointments for Brown, Giddings and Smallwood
By Jackie Torok / 05/31/2022 Academic Affairs
EAST GREENSBORO, N.C. (May 31, 2022) – North Carolina Agricultural and Technical State University announced the appointments of Madeline Brown as interim Center for Academic Excellence associate director, Valerie Giddings, Ph.D., as interim senior vice provost and Arwin Smallwood, Ph.D., as interim vice provost for undergraduate education.
"Each of these roles play a significant part in North Carolina A&T's institutional effectiveness," said Interim Provost and Executive Vice Chancellor for Academic Affairs Tonya Smith-Jackson, Ph.D. "Ms. Brown and Drs. Giddings and Smallwood are dedicated to continuing the momentum our university has experienced in increased enrollment and number of graduates, along with other measures of student success, as well as program growth and development. They each bring talent, insight and educational expertise to these interim appointments to advance our values, our aspirations around research and scholarship and our commitment as a public land-grant to the local and state community and beyond."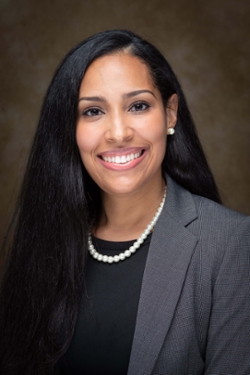 Brown, who joined N.C. A&T in August 2019, has served as an academic advisor and lecturer in the Center for Academic Excellence, where she guided first-year undeclared or undecided students, as well as transfer students, on educational planning and employed early intervention strategies, among other duties aligned with the university's strategic plan.
"As the university continues to expand in various capacities, the Center for Academic Excellence has excelled in supporting our undeclared and transfer student populations through academic resources, course offerings, mentoring programs, summer bridge programs, and active interdepartmental collaboration," said Brown. "My goal is to support the Center for Academic Excellence as it continues to provide students with various academic resources and services designed to set the foundation for a successful transition into the university, as well as the development of the navigational and social capital critical to their persistence and graduation."
Since 2016, Brown also has been a dual academic advisor in the Academic Advisement Department at Berkeley College, with which she has been affiliated for nearly a decade. She holds a B.A. in Spanish studies from Andrews University and an M.A. in human behavior and organizational psychology from Kean University.
"Serving in this new role will afford me the opportunity to continue the legacy of excellence that characterizes our individual and collective efforts as a department and institution," she said. "In alignment with A&T's mission, this foundation will equip students to not only thrive within their campus community, but also become avid contributors to the growth and success of their respective communities and society at large. "
Giddings, who joined A&T in 2008, has twice served as associate professor and chair of the Department of Family and Consumer Sciences in the College of Agriculture and Environmental Sciences, most recently beginning in 2018. She also spent three years as the college's interim associate dean for research and has received more than $4 million in research funding for numerous projects with colleagues at A&T.
"I have held a variety of positions, faculty and administrative, at the department, college and university levels at private, state and land-grant institutions as well as in state and national organizations," said Giddings. "These experiences have given me valuable insight into the operation of higher education and the importance of our relationships with internal and external constituents."
Giddings' experience includes serving as associate professor of art, interim Diggs Gallery director and associate vice chancellor for lifelong learning at Winston-Salem State University; associate dean for outreach and external relations, associate professor of clothing and textiles, and assistant professor, lecturer and Extension specialist/continuing education program coordinator at Virginia Tech; and clothing and textiles instructor at North Carolina Central University and Hampton University. A 2018 graduate of the NCAT Executive Leadership Development Program, she holds a B.S. in home economics from Bennett College and an M.S. and Ph.D., both in clothing and textiles from Virginia Tech.
"The university has a tri-partite mission and it's important that we advance that mission as holistically as possible," she said. "In this new role, I will ensure each component of the mission is given consideration in the various initiatives in which I will be involved."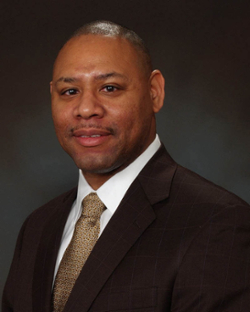 A professor of history, Smallwood has been chair of the Department of History and Political Science and is a Carter G. Woodson Distinguished Lecturer at A&T, which he joined in 2018. In February he became the first A&T faculty member to receive the Gov. James E. Holshouser Jr. Award for Excellence in Public Service, one of the top two annual faculty awards bestowed by the UNC System.
"My previous role as chair of the Department of History and Political Science has allowed me to work closely with many of our students and faculty. It has enabled me to provide strategic leadership on enhancing their educational, professional, and overall campus experiences," said Smallwood. "Through this new role, I will support A&T's aspirations for our students and faculty including growth in collaborative research, greater community engagement and new standards of public service."
After serving as a visiting history instructor at A&T from 1993-94, Smallwood taught at The Ohio State University, Bradley University and the University of Memphis. He has held graduate adjunct faculty status at the University of Memphis since 2013 and has been a North Carolina Humanities Council Roads Scholar since 2017. He graduated from North Carolina Central with a B.A. in political science and cum laude with an M.A. in history, and from The Ohio State University with a Ph.D. in history.
"Throughout my career here at A&T, I've seen students and faculty together and individually, from all walks of life, literally change the world," he said. "As the interim vice provost of undergraduate education, I will have the opportunity to serve all the students and faculty at this outstanding institution and make lasting contributions to our future growth and development."