Saturday, May 14, was a great day to make history in Aggieland.
Graduating students applied for a record 1,994 degrees for 2022 Spring Commencement, raising to more than 3,000 the number of degrees applied for or awarded in 2021-22 – the first time North Carolina Agricultural and Technical State University has exceeded 3,000 in a single academic year. (Spring graduation numbers are not finalized until August.) Just five years ago, that total was below 2,000 for the academic year.
"Each member of this graduating class holds a special place in the story of North Carolina A&T," Chancellor Harold L. Martin Sr. said to thunderous applause in a packed-to-the-rafters Greensboro Coliseum. "Your studies and success at A&T, the opportunities that each of you stands ready to embrace, the path you have created for others to walk on – they all culminate today in a moment that will live on in the history of our university."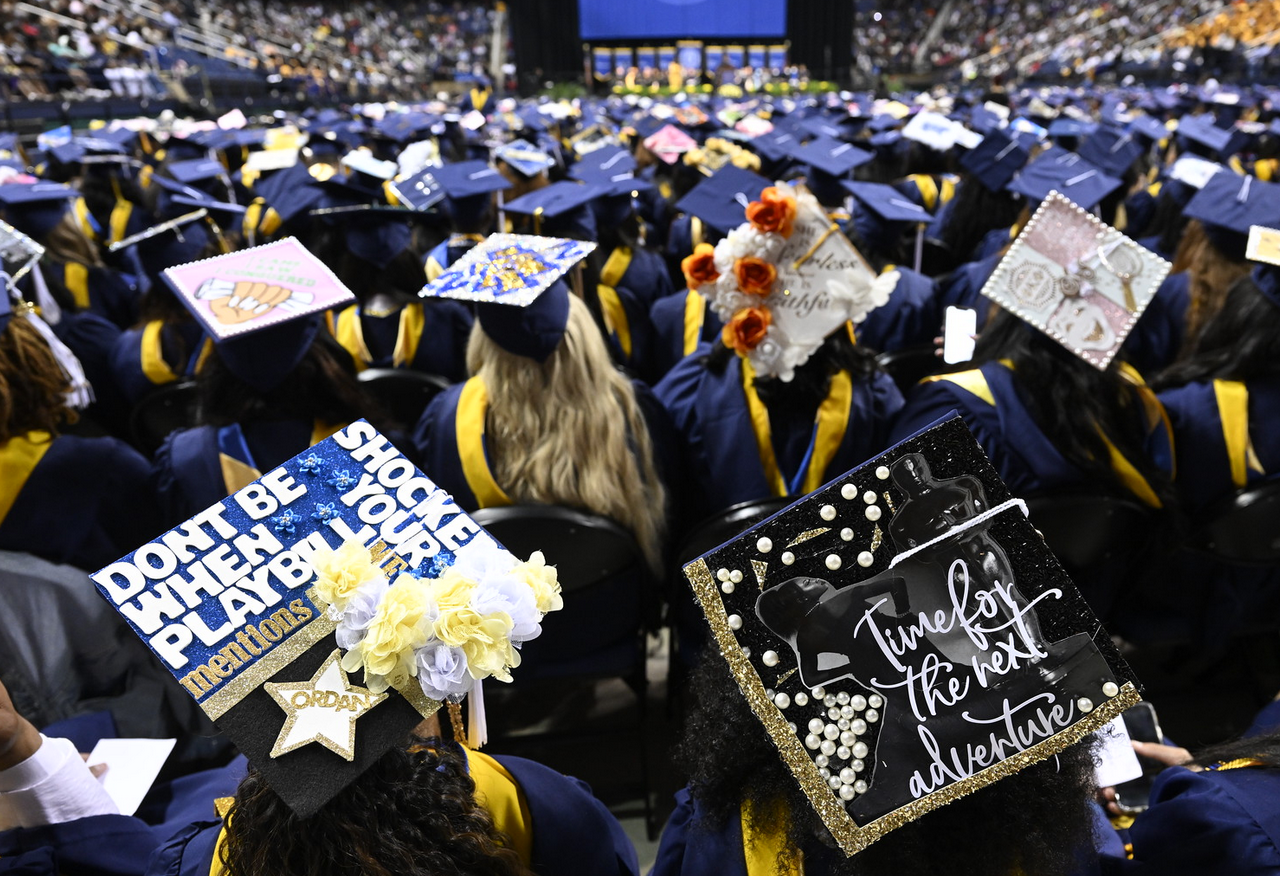 The exceptionally large audience combined with rainy morning weather forced organizers to delay the start of the ceremony for an hour, as parents, family members and other guests struggled to get into coliseum parking and make their way into the arena. In addition to the more than 10,000 people in attendance, thousands watched the commencement livestream via YouTube from locations across the country.
Attorney, author, producer and award-winning co-host of "The View" Sunny Hostin was the exciting keynote speaker for the ceremony.
"I am so proud of you – all 1,900 of you. You have accomplished so much," said the three-time Emmy Award winner. She shared some of her own struggles to succeed in college, including changing majors multiple times and enjoying the college social scene a little too much. "It took me a minute to figure it out. If it took you more than four years to get across the stage today, don't worry. The fact is, you did it."
Hostin, who also was recognized with an honorary Doctor of Humane Letters, exhorted graduates to focus on three things after graduation: Decide who you won't be, maximize your power in important rooms, and use your voice, "even when it shakes, and follow your dreams, even when the road is uncertain."
"The winds of life are not what is important. The challenge should not take away your focus. What will determine your future is how you respond to those challenges," she said, encouraging graduates to understand they are not "bound by the circumstances of their birth."
"When the storm rages, will you keep your eyes on the prize? Will you be able to say, 'I did all that I could as long as I was able and helped all those I could?'
"In this world of turmoil, we need Aggies more than ever."
In addition to the history-making size of the graduating class, A&T marked other important moments Saturday:
Mariah Shobande became the 15th Astronaut Scholar to graduate from A&T over the 38-year history of that national program. The Astronaut Scholarship honors the Mercury 7, the original astronauts of the U.S. space program. The scholarship is awarded to only about 60 of the nation's "most academically accomplished undergraduate second- and third-year students in science, technology, engineering and mathematics who are intent on pursuing research or advancing their fields upon graduation." Shobande earned her B.S. in bioengineering with plans to pursue a master's degree in tissue engineering and a Ph.D. in neuroscience.
Eleven graduating seniors were honored for compiling perfect 4.0 GPAs over their undergraduate careers. One of those seniors, electrical engineering graduate Malkam Hawkins, recently made news when he introduced President Joe Biden for a national policy speech on advanced manufacturing that he recently shared during a visit to A&T.
It was the final A&T commencement for College of Engineering Dean Robin Coger. After serving as dean of the nation's No. 1 source of Black engineering graduates for the past decade, Coger begins work this summer as provost and chief academic officer at East Carolina University.
As is tradition at A&T, graduates and attendees concluded the ceremony with a rousing rendition of the Alma Mater that filled the cavernous arena:
With joy, with joy, dear A. and T., thy students turn from thee
To spread thy trophies year by year from Dare to Cherokee