EAST GREENSBORO, N.C. (Feb. 10, 2022) – A faculty member at North Carolina Agricultural and Technical State University has won an international competition for his proposed design of a planned new heritage-based public space in South Carolina's Lowcountry. 
The winning entry was crafted by W. Chris Harrison '07, an assistant professor of natural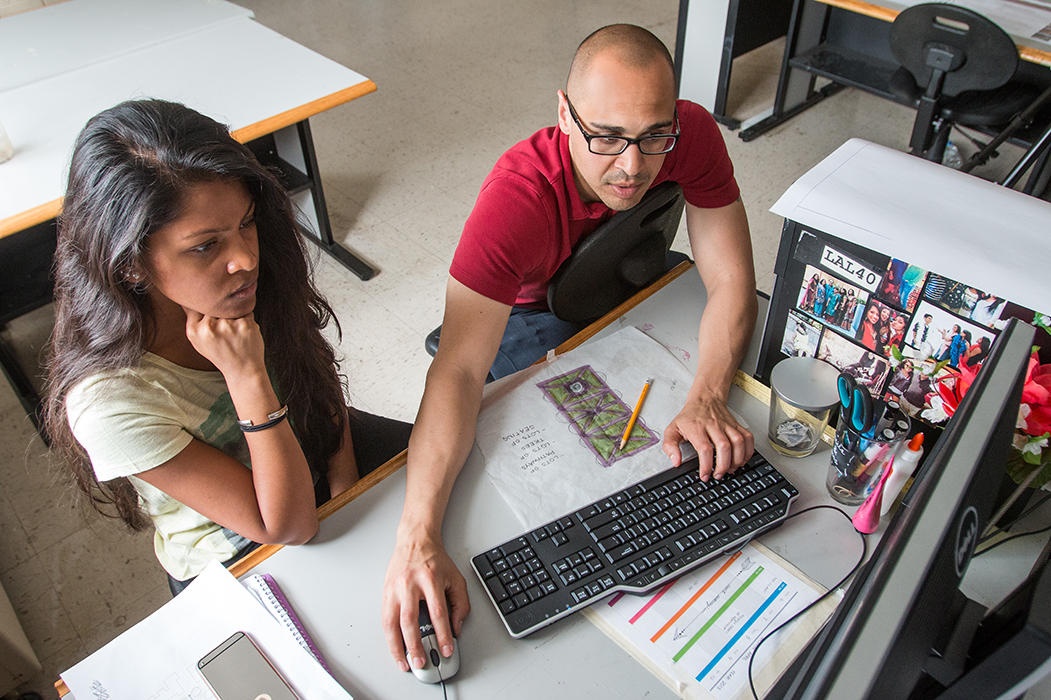 resources and environmental design in the College of Agriculture and Environmental Sciences. His design will be used to create the John L. Scanlon Memorial Park near Charleston, S.C. 
 "It was a very compelling project for me," said Harrison, the coordinator of A&T's Landscape Architecture Program and a 2007 A&T graduate. "The mission of our program is working on projects like this, to be a voice for folks who don't have a voice." 
Harrison's winning design for this planned half-acre park blends history and the natural world to tell the story of a marshfront community that lies near Charleston Harbor. The area was once home to Sewee Indians; the Gullah people, the descendents of enslaved persons who live along the coast of the southeastern Untied States; and former slaves who settled there after the Civil War. 
The proposed park design includes a spiral walkway that leads visitors to a spirit circle in the park's center. There's also a weave pavilion, which is a living sculpture of interlaced willow trees that resemble the baskets made by the Gullah people. The design also includes several cast bronze statues; plantings of rice, cotton and indigo, which were once grown on nearby plantations; and virtual and augmented reality features so visitors can use their phones to hear the stories of these people and where they once lived. 
Harrison called his proposal Praise House Park because he envisions the entire park to be a sacred space that serves as a refuge, gathering spot and a place for spiritual reflection. A praise house was a simple wooden structure built by enslaved persons that served as the center of many Black communities during and after slavery times. 
"This place is about change, but the landscape is everlasting," Harrison said. "It's ubiquitous and connects us all through this string of time." 
The memorial park will be named for John Scanlon, a Black carpenter who led a cooperative association known as the Charleston Land Company. Scanlon and other former enslaved men purchased shares in the company for $10 apiece and, in 1868, bought a 614-acre plantation. 
Scanlon's venture laid out roads, home lots and farmland and ultimately created a thriving, self-sufficient community known as Scanlonville. By the 20th century residents had built dozens of homes, a park, wharf, stores, nightclubs, a school, a hotel and a cemetery. Scanlonville had the area's largest Black beach, and its waterfront pavilion drew popular musicians such as Louis Armstrong, James Brown and Duke Ellington. 
Except for a historical marker near the park site, there's little left of the old Scanlonville, an unincorporated community located within the town of Mount Pleasant, S.C. Most of the community's major landmarks are long gone, and large new waterfront mansions are crowding out the modest ranch homes built by the descendants of Scanlonville's original settlers.  
The design competition was sponsored by the East Cooper Civic Club Inc., which owns the park property, and co-sponsored by Charleston Audubon. The contest was administered by the Master of Resilient Urban Design Program in Clemson University's School of Architecture. The jury was composed of professors and design professionals from New York City, Boston, Clemson and the West Coast. Harrison was awarded $2,500 for his winning design, which was announced last summer. 
Efforts to raise money to build the park are ongoing, said Edward Lee, a longtime Scanlonville resident who serves as president of the East Cooper Civic Club. 
"(Harrison) did his research. He dug into our community," said Lee, a 1980 A&T graduate. "Every element in his design was inspired by something that happened or is in Scanlonville."