Dr. Alvin V. Blount Jr. to be Honored by NBCAHOF for N.C. A&T
By Alana Allen / 09/24/2021 Alumni
The National Black College Alumni Hall of Fame Foundation (NBCAHOF) will host its annual hall of fame induction ceremony virtually at 6:30 p.m. ET on Friday, Sept. 24. Among this year's stellar class of honorees representing North Carolina Agricultural and Technical State University is the late and well-respected, Dr. Alvin V. Blount, Jr. '43, in the medicine category. He is best known in the city of Greensboro, North Carolina, for integrating health care.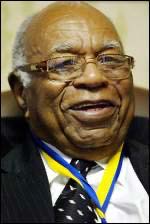 Each year, graduates of historically Black colleges and universities (HBCUs) are inducted into the hall of fame for significant contributions they have made in their respective fields. The NBCAHOF promotes the viability of HBCUs and highlights the accomplishments of their alumni.
Blount enrolled at North Carolina A&T College in 1939 where he served as the student body president and as chairman of the campus newspaper before graduating magna cum laude in 1943 with bachelor's degrees in chemistry and math.
After graduation, Blount was selected for a military program that trained black physicians at Howard University's School of Medicine. He received his medical degree in 1947 and was a commissioned officer in the U.S. Army Medical Corp assigned to Fort Bragg, N.C.
In 1950, he served with the 8225th Infantry Division's Mobile Army Surgical Hospital (MASH) Unit that was sent to the Korean War. He performed 90 surgeries a week and he went on to become a captain in the U.S. Army Medical Corps. He returned to the United States in 1952 and started his medical practice near A&T's campus.
In 1957, Blount became the first African American in North Carolina to be certified by the American College of Abdominal Surgeons and practiced at Kindred Hospital (formerly L. Richardson Hospital). He also served as Chief of Surgery for L. Richardson Hospital for more than 49 years and as medical director for the Guilford Health Care Center.
In 1962, Blount along with eight black physicians, dentists, and their patients sued two white hospitals in Greensboro. The lawsuit alleged that the hospital had denied privileges to the physicians and dentists, and services to patients due to their race. As a result of a 1962 landmark Supreme Court decision, hospitals throughout the South were desegregated and Blount became the first black surgeon admitted to the medical staff of Moses Cone Hospital in 1963.
Blount was an integral part of A&T's growth. He was a charter member of the N.C. A&T University Foundation Board of Directors (1966) and served as president of the foundation for 23 years (1974-94). Under his leadership, over $26 million was raised for the university. In 1983, A&T awarded him an honorary doctor of humanities and in 2000, the foundation board established the Dr. Alvin V. Blount Scholarship Fund.
Blount received countless awards in his career such as The Order of the Long Leaf Pine in 1994, the highest honor that can be granted to a civilian in the state of North Carolina, and in 2007, he received the N.C. A&T Human Rights Medal.
He retired from practicing medicine full-time in 1994 and continued to see patients during his retirement. Blount passed away on January 6, 2017, at age 94.
The Induction Ceremony is part of the 36th Annual NBCA Hall of Fame Weekend. Other events include The Competition of Black College Queens, HBCU Invitational Golf Classic, President Summit, The Legacy of Leaders Alumni Awards, Positive Image Program, Call to Womanhood and Call to Manhood Symposiums, and other programs intended to empower and equip HBCU alumni to better serve their alma maters and communities.
For more details on how to register for the 2021 NBCA Hall of Fame Weekend, information on the programs and initiatives of the foundation, visit www.nbcahof.com.