N.C. A&T Board of Trustees Elects New Officers in First Full Meeting of 2021-22 School Year
By Tonya Dixon / 09/24/2021
EAST GREENSBORO, N.C. (Sept. 24, 2021) – The North Carolina Agricultural and Technical State University Board of Trustees held its first full-body meeting of the 2021-22 academic year, Friday, Sept. 24, via Zoom. Following an open vote of the trustees, the board bid farewell to Trustee Venessa Harrison as chairwoman, whose two-year term ended, and elected new officers who presided over the duration of the meeting.
The new officers are:
Chairwoman Hilda Pinnix-Ragland: Serving for the past two years as vice chairwoman, Pinnix-Ragland is a retired Duke Energy corporate affairs and business executive acknowledged for building best-in-class organizations that consistently achieve aggressive revenue and profit objectives. She has served on the board since 2017. She currently serves as a corporate board director for RTI International and Southwest Water Company. She is the managing director and chief financial officer for AHK Global Resources.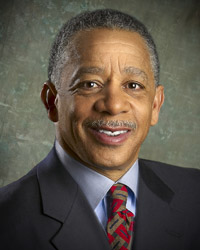 Vice Chairman John W. Bluford III: Formerly board secretary, Bluford has been a healthcare administrator and entrepreneur for more than 40 years. He is president and founder of Bluford Healthcare Leadership Institute and president emeritus of Truman Medical Centers. Additionally, Bluford is the past chairman of the American Hospital Association Board and is nationally known as a healthcare innovator who has been recognized by Modern Healthcare and Becker's Hospital Review as one of the most influential people in healthcare.
Secretary Kimberly Gatling: Gatling is a partner and chief diversity and inclusion officer with Fox Rothschild LLP, where she practices in the areas of patents, trademarks, copyrights, information technology, and related licensing and litigation matters. A U.S. registered patent attorney and North Carolina board-certified trademark specialist, she also serves as a director for the Cone Health Foundation and an associate director for Truliant Federal Credit Union. This is Gatling's first A&T Board of Trustees leadership position.
During its annual retreat, the board officially swore in new members: alumna and Simmons University President Lynn Perry Wooten, who replaced former trustee George Mainor, and Student Government Association (SGA) President Verdant Julius as ex officio.
The N.C. A&T Board of Trustees is comprised of 13 individuals: eight elected by the UNC Board of Governors, four appointed by the North Carolina General Assembly and an ex officio (A&T SGA president). The term of office for all trustees, except the ex officio member, is four years.
A&T trustees promote sound development of the university, serve as advisors to the UNC Board of Governors on matters pertaining to the university and advise the chancellor concerning the management and development of the university.