EAST GREENSBORO, N.C. (Aug. 10, 2021) – The White House Initiative on Historically Black Colleges and Universities has selected North Carolina Agricultural and Technical State University students Milosh McAdoo and Rachel Richards as 2021 HBCU Competitiveness Scholars.
As North Carolina A&T Cheatham-White Scholars and members of the University Honors Program (UHP), McAdoo and Richards are among 86 students who were chosen from 54 HBCUs nationwide to receive the initiative's highest honor based on academic achievements, campus leadership, civic engagement and entrepreneurial spirit. McAdoo and Richards raise North Carolina A&T's total number of participants in this program to seven since it began in 2014.
"We are thrilled for Milosh and Rachel as the first Cheatham-White Scholars selected as HBCU Competitiveness Scholars," said Margaret I. Kanipes, Ph.D., A&T Honors Program director. "Milosh understands that agriculture touches all populations, despite divisions of race and class, and Rachel is focused on STEM research that helps marginalized communities across the world.
"I know both Milosh and Rachel will make valuable contributions to the White House Initiative on HBCUs on behalf of A&T."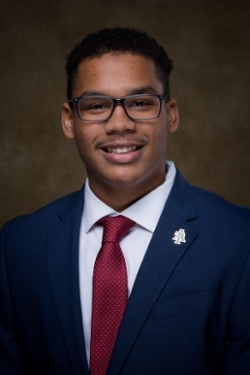 Rising junior McAdoo, of Hillsborough, North Carolina, is pursuing a B.S. in animal science (animal industry). He completed a summer internship with the N.C. Department of Agriculture and Consumer Services as a Small and Minority Farms intern, and is a Land O' Lakes Global Food Challenge emerging leader and intern.
He also is one of the four A&T students chosen to participate in the Z. Smith Reynolds Foundation-supported North Carolina Policy Innovation Leaders of Tomorrow 2021 (PILOT21) initiative.
McAdoo opted to attend an HBCU, specifically N.C. A&T, because of its land-grant status. N.C. A&T is the birthplace of New Farmers of America, which represented the interests of Black students interested in agriculturally-based careers before its membership joined Future Farmers of America (FFA) in 1965.
"While serving as a state vice president for the North Carolina FFA Association, leading nearly 20,000 agriculture students in their personal growth and career success, I understood the weight of advocating for others," McAdoo said. "While in this role, I knew that I was not only sharing my own perspective, but also speaking for other underrepresented youth who navigated the organization similarly to me. This mentality has directly transferred to my future in agricultural communications, sharing the positive stories of animal agriculture and advocating for equity in the industry."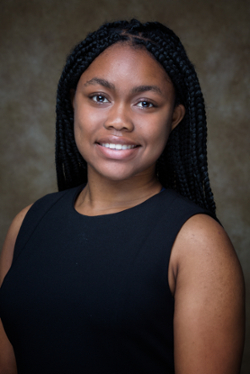 Rising senior Richards, of Cornelius, North Carolina, is seeking a B.S. in biology. A 2021 Goldwater Scholar, she is the first A&T student chosen since spring 2014 for the Goldwater Scholarship Program and the third in the university's history.
A full-time Learning Assistant Program participant at A&T since August 2019, Richards has held internships as a student researcher at Tufts University School of Medicine. She also participated virtually during summer 2020 as an undergraduate student researcher at the University of Pennsylvania School of Medicine, and continued her own research at A&T, which she has taken part in since fall 2018 with Liesl Jeffers-Francis, Ph.D.
"As my future plans include the pursuit of a Ph.D. in microbiology to become an infectious disease researcher, I believe my career should also focus on increasing the diversity of biomedical research to reduce racial healthcare disparities," Richards said. "A&T has provided me with numerous opportunities to advance myself through national programs like the Maximizing Access to Research Careers Program and networking opportunities at conferences like the Annual Biomedical Research Conference for Minority Students. In combination with my tutoring and mentorship experiences, I have established myself as an advocate for increased participation in undergraduate research at my university."
As 2021 HBCU Scholars, McAdoo and Richards will be invited to monthly virtual events hosted by the initiative and its various partners representing a wide range of disciplines. They will have the opportunity to network with fellow scholars, federal agencies and private partners to showcase individual and collective talent across the HBCU community. They also will be invited to attend 2021 Annual National HBCU Week Conference workshops designed to help them learn and adopt promising practices in areas such as leadership, professional development, HBCU excellence and workforce development.
Scholars are expected to carefully assess their personal and career aspirations, as well as the needs of their institutions and communities, to help determine the best ways the Initiative and its partners might provide support.
NCAT Extraordinary Opportunities is recruiting eligible candidates for the 2022 cohort of the program. The application deadline is 5 p.m. EST Dec. 14. Email Alsace-Lorraine Gallop, A&T's national scholarships and fellowships coordinator, at acgallop@ncat.edu for details.