N.C. A&T Names Cockerham Executive Director of Community Engagement
By Jackie Torok / 07/08/2021 Academic Affairs
EAST GREENSBORO, N.C. (July 8, 2021) – North Carolina Agricultural and Technical State University announced Lonnie Cockerham, Ph.D., has been named executive director of community engagement.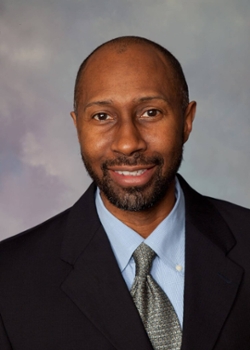 Since January, when Cockerham was chosen to fill the role on an interim basis, he assisted with the university's Association of Public and Land-Grant Universities (APLU) designation application submission. A&T was selected last year to seek this designation in the area of Innovation and Economic Prosperity, a three-year self-study process, and Cockerham will work to implement the initiatives resulting from this report. A&T holds the Carnegie designation as a community-engaged university.
Cockerham spearheaded the university's Dr. Martin Luther King Jr. Day of Service and Women's History Month Program. In addition to serving as a university Kellogg Racial Equity 2030 grant proposal team recruiter and participant, he is a member of the Civic Learning and Engagement Committee, A&T's East Greensboro Economic Development Renaissance Initiative and the board of Downtown Greensboro Inc.
Cockerham will continue to serve as the chair for monthly meetings between A&T's North Carolina Small Business Technology Development Center and the North Carolina Office for Historically Underutilized Businesses. He also plans to advance economic engagement activities, establish a community engagement council, develop and strengthen university and community partnerships and initiatives, and increase volunteerism, among other goals.
"This is an exciting time to be at N.C. A&T as the university continues its work, in partnership, through the contributions of community engaged students, faculty, staff and alumni," said Cockerham. "With all the societal progress that has been accomplished over the past several decades, the urgency to address contemporary challenges in a meaningful way is no less diminished. I look forward to contributing in any way that I can to the community engagement work that lies ahead."
Before joining A&T, Cockerham held management and administrative leadership positions in community-based organizations such as Habitat for Humanity, Huntington Learning Center and Black Child Development Institute, along with his volunteer work with Big Brothers/Big Sisters and INROADS. He previously worked at Guilford Technical Community College and taught at the A&T Middle College.
His years of industry experience include roles at Nortel and AT&T Bell South, which combined engineering, assessment and evaluation, project management and data analytics.
Cockerham is a two-time alumnus of A&T, with a Ph.D. in leadership studies, having earned a best dissertation award, and a B.S. in industrial engineering. He earned his MBA from The Fuqua School of Business at Duke University.