Dominion Energy to Host Social Justice Forum with Chancellor Martin and other HBCU Leaders
By Staff / 06/14/2021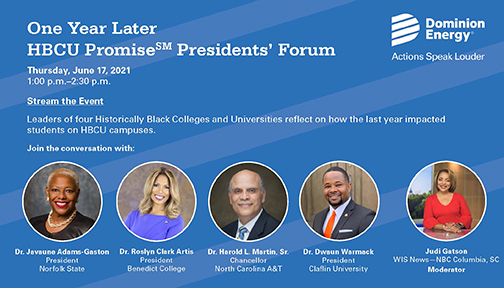 WHAT:                       
North Carolina Agricultural and Technical State University Chancellor Harold L. Martin, Sr. will join other HBCU leaders as part of Dominion Energy's HBCU PromiseSM Presidents' Forum series. The forum will focus on the impact of the social justice movement on HBCUs and their students over the past year, opportunities and successes and how HBCUs are uniquely positioned to advance social and economic mobility for minority students. Dominion Energy will provide funding to N.C. A&T over six years totaling $3 million to support two scholarship funds, a new engineering research facility and a retention initiative program for students facing hardship. 
WHEN:                       
Thursday, June 17, 1 - 2:30 p.m. 
WHERE:                    
Click here to view the livestream.  
WHY:                         
As part of Dominion Energy's $25 million HBCU PromiseSM initiative, the company is supporting 11 historically black colleges and universities to promote higher education equity. Dominion Energy is hosting a series of conversations with HBCU presidents to elevate the valuable perspectives and contributions of these historic institutions. 
INTERVIEWS:           
Dominion Energy and N.C. A&T representatives are available for pre-event interviews. Contact persida.montanez@dominioneenergy.com and thsimmons@ncat.edu to coordinate interview requests.