EAST GREENSBORO, N.C. (June 17, 2021) — A new partnership between North Carolina Agricultural and Technical State University and Barnes & Noble College will enable A&T to make textbooks available for the 2021-22 and 2022-23 school years free for all undergraduate students.
Yes, you read that right. Free.
BNC First Day® Complete, an innovative course material delivery model, will ensure A&T students are prepared to begin learning on the first day of class. The university will invest funding from the federal CARES Act to make the program possible.
The program targets a major challenge to student success. A national survey published earlier this year reported 65 percent of college students did not purchase textbooks for classes due to economic hardships exacerbated by the COVID-19 pandemic. BNC First Day® Complete will not only make sure no Aggie undergraduate suffers through that challenge, it will lower the students' cost of attendance.  
"This program will help alleviate financial pressures often associated with pursuing higher education for many students, especially first-generation students and those with limited financial resources," said Beryl McEwen, Ph.D., provost and executive vice chancellor for academic affairs. "Our undergraduates will begin the academic year with an added layer of confidence and be able to focus on their studies without the worry of textbook costs."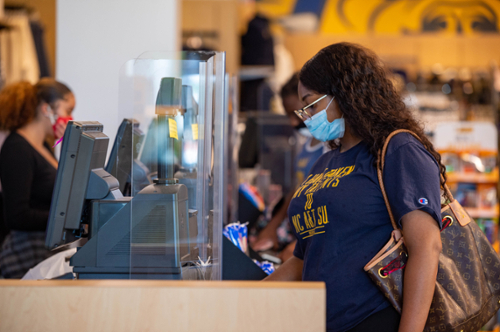 First Day® Complete addresses equitable access, convenience and affordability across all courses at an institution. This program ensures students will have all of their materials for the semester available on or before the first day of class. In addition, First Day Complete fully supports academic freedom and faculty choice. Faculty members can choose the materials that are best suited for their teaching, regardless of publisher or format. North Carolina A&T is the first public HBCU to implement the First Day Complete equitable access program on its campus.                            
"We are excited about this partnership with Barnes & Noble College," said Robert Pompey, vice chancellor for Business and Finance. "Through this program and university scholarship support, our undergraduate students will save well in excess of $1,000 each in textbook costs on an annual basis."
North Carolina A&T will implement First Day® Complete in August for the fall 2021 semester. Before the start of the term, undergraduate students will receive an email from the University Bookstore prompting them to select their preferred delivery method. The Bookstore will prepare the materials for each student, and notify them when the materials have shipped or are available for in-store pickup; digital materials will be delivered directly through the Blackboard platform.
"We look forward to working with North Carolina A&T to enhance the student experience through this new model of course material delivery," said Jonathan Shar, executive vice president for Retail, Barnes & Noble Education. "First Day® Complete will ensure students are prepared to begin learning on day one, driving greater student success while also offering a more affordable and convenient way for students to obtain their course materials. We know First Day® Complete will greatly benefit this campus community, and we are very excited to partner with North Carolina A&T on this program."
To further highlight the university's commitment to providing an affordable collegiate experience, A&T dispersed more than $14 million in emergency student aid during the 2020-21 academic year, and will continue to do so in the coming year. The university will not increase tuition for the 2021-22 academic year and will provide dining and housing scholarship support as well.
Additionally, A&T's capital campaign raised a record of $181.4 million supporting, among other initiatives, 270 new scholarship funds across multiple colleges and departments as well as university-wide student awards. The campaign raised money for academic program development, faculty support and facilities, all of which will help to upgrade the student experience and student success.
The Barnes & Noble at N.C. A&T is a premier Barnes & Noble College bookstore, designed to meet the needs of the university's students, faculty, alumni, fans and families, providing a dynamic social and academic hub for the entire campus. The Bookstore offers the latest high-quality merchandise and services to campus – and with Barnes & Noble College's partnership with licensed sports merchandise leaders Fanatics and Lids, it will now offer an unparalleled product assortment and omni-channel merchandising experience.
Barnes & Noble College, a Barnes & Noble Education company, operates more than 770 campus stores nationwide, including the bookstore at A&T. For more information about Barnes & Noble College's services and locations, visit www.bncollege.com.