EAST GREENSBORO, N.C. (June 21, 2021) – The Aggies at the Goal Line Program (AGL) at North Carolina Agricultural and Technical State University has experienced phenomenal growth since its inception in 2016. The online degree completion program, developed out of the University of North Carolina System "Partway Home Initiative," continues to be a source of alternative degree obtainment.
Since 2016, more than 100 students, from nearly every age range, have been admitted, enrolled and graduated through AGL. The vast majority have completed the program, receiving liberal studies degrees.
"Not only does the Aggies at the Goal Line program facilitate student degree completion – serving as a tremendous opportunity for adult learners to complete a college degree, improving their economic, professional and social profile – but many participants indicate the welcoming program structure reduced their anxiety and concerns about returning after years of separation," said Carliss Jacobs, director of the Aggies at the Goal Line program.
The AGL program provides a means for former N.C. A&T students who failed to finish their bachelor's degree program to have an opportunity to return for completion. Participants must have stopped out of school for at least two years; have a minimum 2.0 cumulative grade point average at the time of stop out; and have earned 90 or more credits.
AGL students have exceptional stories of grit, determination and inspiration. Many share stories of losing their way, but finding redemption through the program.
Sandra Richardson began her A&T journey in 1972. On May 11, 2021, at 67, she received her degree in interdisciplinary studies.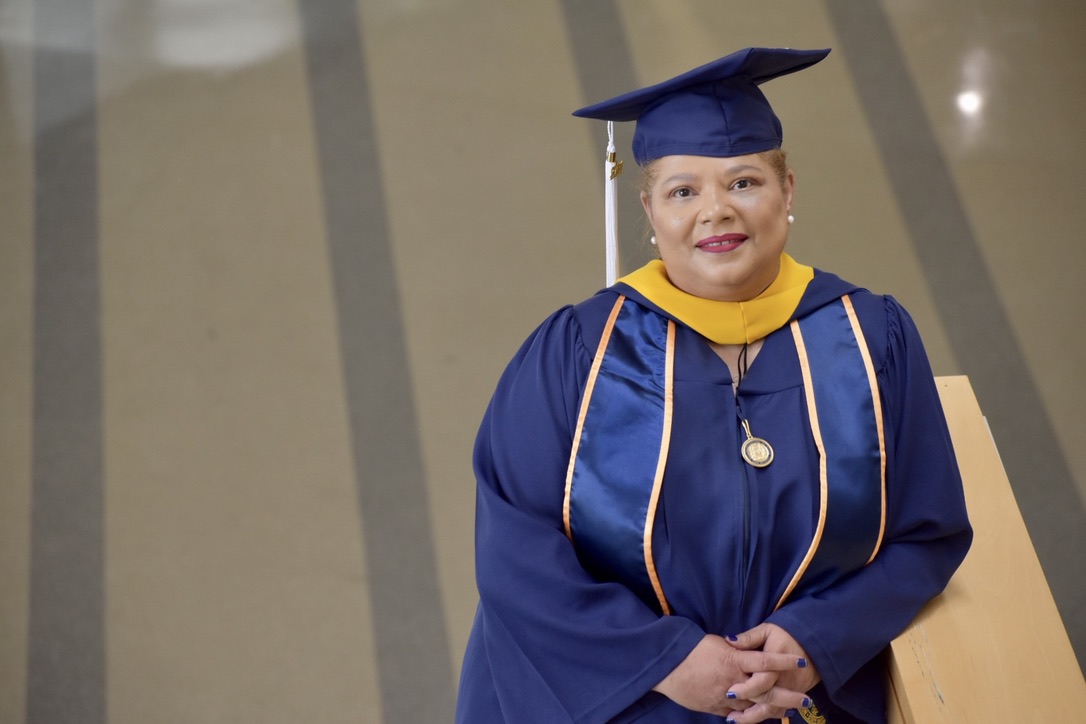 "I always wanted to go back and finish school. You have this weight hanging on your shoulders until you finish. I found myself back at A&T in 1993 [in the Psychology program] and it was a great experience, but again, life got in the way with family responsibilities. I felt I needed to be with my family more than finishing school," said Richardson. 
Although she initially remained a student for nearly four years, until 1976, Richardson admits when she first attended A&T it just wasn't the experience she expected and couldn't fully cope.
"I grew up in Canton, Ohio. Basically, I just wasn't prepared for life in the South at that time as far as race and discrimination were concerned," she said.
"I remember going downtown to Meyer's Department store. The store isn't there now. Fashion Fair Cosmetics had just come out. It was going to be my first time buying and wearing makeup. I stood there for 20 minutes and the lady totally ignored me. I spoke up and she continued ignoring me. I knew I wouldn't be spending my money there anymore. That was just one example. It was just an adjustment."
In 2018, after hearing about the AGL program, she took a chance and tried to enroll again. Ultimately, she couldn't begin until 2019, but once everything fell into place, she knew she had struck gold.
"My experience from then until this point, on a scale of 1-10, would be 100. They are inclusive. They want you to finish and get your degree," said Richardson. "My instructors and professors were wonderful. There are no words in the dictionary to explain how I feel about Mrs. Jacobs and Dr. Dicks. It's not just because they've met their goal, but I think it makes them happy when people succeed. They go above and beyond their jobs making sure you have everything you need."
"This has been the best experience with A&T. The AGL program is truly a blessing to those who don't have the time, traditional schedule or otherwise to finish. People have struggles. Everybody's struggle is different. I'm so glad A&T does this program."
Her journey was long, but Richardson believes it all happened for a reason and has no regrets.