As North Carolina Agricultural and Technical State University prepares to hold commencement ceremonies for both spring 2021 and 2020 graduates, Sunday, May 9, 8:30 a.m. and 4 p.m., respectively,​ soon-to-be alumni share their stories of perseverance, dedication, scholarship and innovation.
Despite a global pandemic, unprecedented changes and challenges, N.C. A&T students have risen above and excelled. While there are hundreds of stories to be told, they represent the diverse intellectual climate, entrepreneurial spirit, civic engagement and academic excellence that characterizes the A&T experience. Here are a few of their stories. Read more on the university's Instagram, Facebook, Twitter and LinkedIn pages. 
MALEK MITCHELL
"It was the atmosphere. The first time I came to A&T. People were so talkative and reached out. They didn't know me, but they were so helpful. The family vibe was important to me.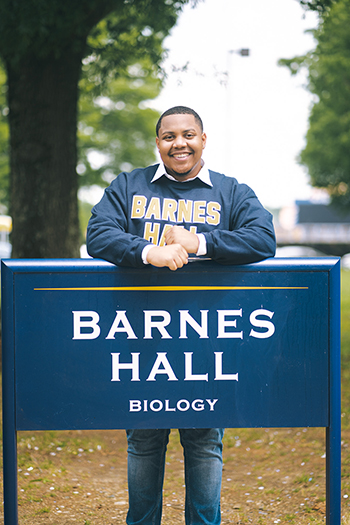 My goal is to become a physician and a researcher. I'm not exactly sure what specialty just yet. What's really important is public health research. So, I took the biology, pre-med track. Healthcare disparities are a big issue and I want to be engaged in that space, specifically looking at differences between people of color and their health outcomes and comparing them to the majority. The differences are outrageous. I think about the story I heard of a black woman telling doctors she was in a lot of pain, but she wasn't believed and she died. Just not listening. That's an example of a disparity. Doing research to impact those type situations, whether it's on the policy level or a business level, is where I'm really passionate. Also, by having my M.D. I will be able to be in those spaces and be an active advocate and prevent those instances from happening in the first place. 
I've already spent a lot of time volunteering, shadowing, summers of research, gaining mentors and encouraging others to do the same. This past year I served as the president of the Minority Association for Pre-Medical Students. But it's not just about me. I'm passionate about encouraging other students to follow their pre-med dreams. Get a mentor. Shadow. Volunteer. Participate in summer programs. It really makes a difference. Counselors in high school didn't push HBCUs. But going to A&T has been the best decision of my life. As a first-generation student, I didn't have a lot of knowledge, but I'm glad I did my research and found out how great we are. A&T provides a village that is committed to your success. You don't get that in other spaces. 
Now I'm headed to Brown University School of Public Health. I'm more than excited. I'm part of the first cohort of the new Health Equity Scholars program. Not only will I be getting my master's but I will have the opportunity to begin conducting the health disparity research I mentioned. It's crazy that I'm headed to this Ivy League school. I never considered it. But I want to make it clear: it's all because of A&T."
DALLAS COOK
"When I toured the campus, something just happened and I knew this is where I needed to be. I applied as a business management major, but I switched to agribusiness and it was really one of the best decisions I made here.
[The College of Agriculture and Environmental Sciences] really polished what I already brought to the table. They were everything I needed to help me grow personally and professionally. I wouldn't be the person I am today without them.
After graduation, Cook will attend Fayetteville State University for her MBA with a concentration in project management but she's made many memories during undergrad at A&T that she will be able to tell her children.
"A&T opened doors for me and allowed me to be in a place I never knew existed. From days in Barbee where we made our own little community to the student orgs and making friends, that group of people who can make college fun but also be academic minded is what I'll always be grateful for."
NOAH AVANT 
"I transferred to A&T in the fall of 2017. I just made the GPA requirements, because I was on academic probation at my other school, but by the end of my first year at A&T, I made the Dean's List and received a co-op with the Disney College Program.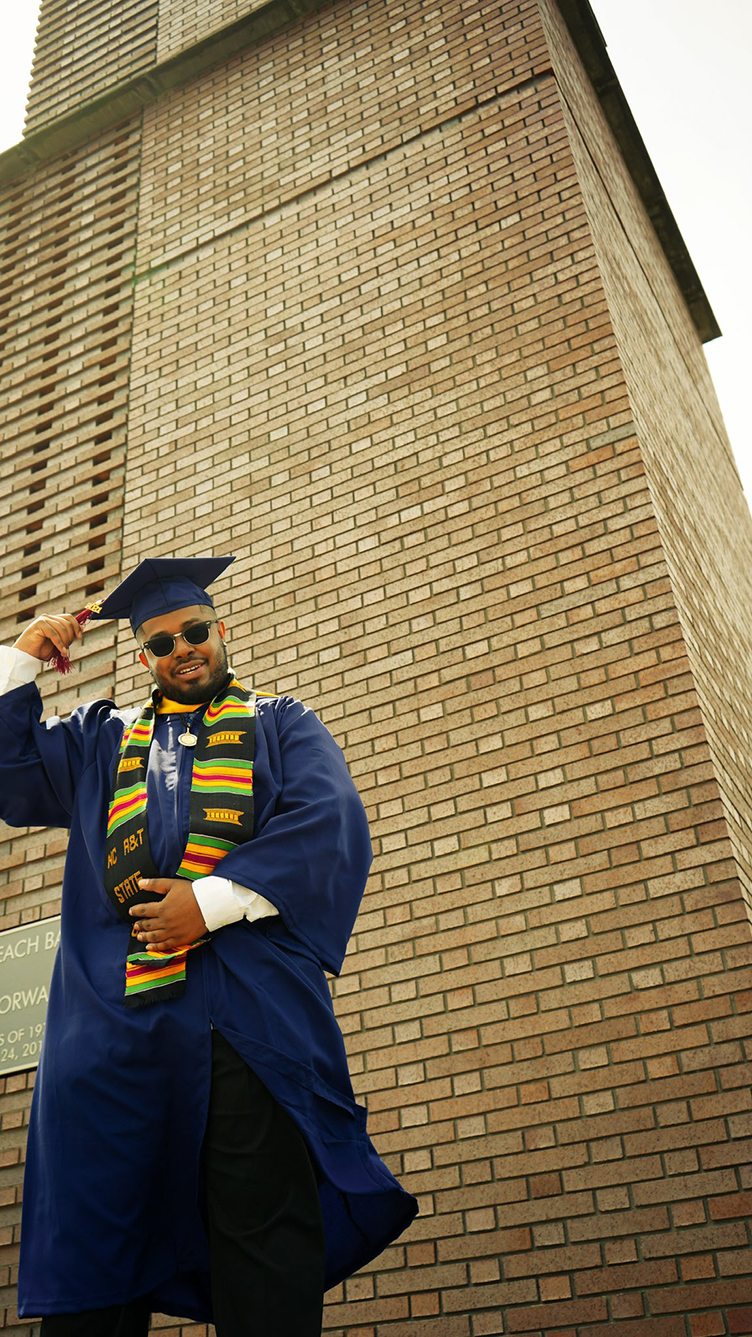 From the very moment I started attending A&T I excelled and now I am graduating with a degree in Journalism and Mass Communication and have a job offer to be district manager with PepsiCo-Frito Lay in Seattle, Washington.
I felt more at home at A&T. I had professors that truly showed they cared about me getting to this point and beyond. From the very moment I set foot on campus, I felt like I was home.
The thing I will always appreciate about A&T is the people. From the housekeepers in the student center to the professors in Crosby Hall. Everyone treated me with respect and pushed me to be great. To me, Aggie Pride isn't just a saying. It is a way of life. It means that everything you do; you do to the best of your abilities. You are the standard of excellence. Why? Because that's what Aggies do. If I could change one thing about my college experience, I would have come to A&T sooner."
SIMONE LACEWELL
"Since being at A&T, I started a business. I didn't really plan on it, but it turned out that I wasn't the only one who needed this product. It was conceived out of need.
I've always been used to having fresh fruit. Since I was a kid, my mom always made me have fresh fruit for breakfast, snacks, everything. I'm just used to having it. So, as a freshman, I found myself frustrated because I didn't have a car on campus to go get the fruit I wanted.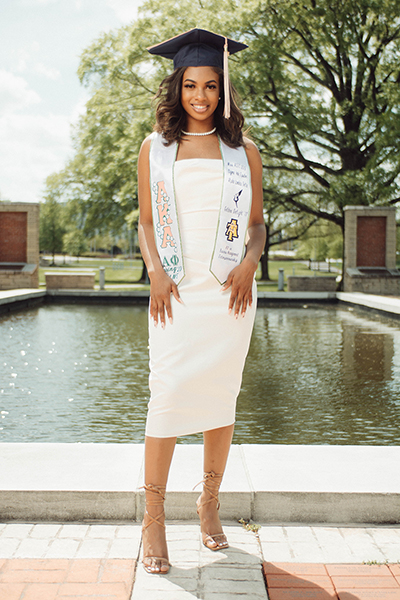 I was in the band. My schedule was weird and I couldn't go to the café at regular times like other students. Whenever I did get a chance to go to the store, I tried to stock up. But because I was in a dorm, I'd usually get the fruit cups because I didn't have a place to cut and store. But that became super expensive and it wasn't real, fresh fruit.
I couldn't keep paying $8, a container for something that I was basically settling for. And unfortunately, there aren't a lot of options close to campus. I just decided I was going to start a fresh fruit business.
I'm a natural born entrepreneur. This isn't my first business. I have a t-shirt business. From 8th grade through high school graduation I had a cake decorating business. I see an open opportunity and I take it.
My Miki Bowls (Miki means sweet in Hawaiian) come in nice, clear packaging, with a bamboo fork. They are fresh and convenient for students.
Yeah, it was hectic, but after I left the band, I just took those hours and devoted them to my business. It's about time management and integrating business skills. That's why I'm getting a degree in Business Management Entrepreneurship.
I've recently added fresh juices. And I just met one of my goals. I was able to get a food truck. It's not complete, but it's in the works. I'm getting inspections and permits and a few other things. There's still a lot to be done, but I hope to be ready by summer. 
A&T has cultivated my ambitions. It feels good to be around so many excellent, young black people, who are bettering themselves and excelling.
As for my next stop, I've accepted a position with Aldi Inc. as a district manager. And of course, I'll still be expanding Miki Bowls."
North Carolina A&T will live stream both ceremonies. Visit our website on Sunday, May 9, for link access.