EAST GREENSBORO, N.C. (Dec. 21, 2020) – North Carolina Agricultural and Technical State University students Amanda Gray, Aliyah McCray, Felicia Park, Miles Staton and Erica Thompson have received grants totaling $34,500 from the prestigious Dwight David Eisenhower Transportation Fellowship Program (DDETFP).
The awards were procured under the recommendation of N.C. A&T Transportation Institute and Center for Advanced Transportation Mobility (CATM) Director Maranda McBride, Ph.D., and program manager Teresa McBride.
The funds will provide 2020-21 academic school year tuition assistance, a stipend and expenses for the 100th Transportation Research Board annual meeting, which will be conducted virtually in January 2021.
Gray, McCray, Park and Staton are supply chain management students in the Willie A. Deese College of Business and Economics, while Thompson is a civil engineering student in the College of Engineering.
 Gray, of New Brunswick, New Jersey, is the first person from the maternal side of her family to attend college. As the child of an ex-convict, Gray never thought she would be a successful student studying business at A&T. After having a son at 19, she aspired to improve her life, enhance her career options and change the socioeconomic status of her family for generations to come.
"I am more than grateful to receive this award and proud to represent N.C. A&T in this way. I'm happy to be Aggie bred and Aggie led," said Gray.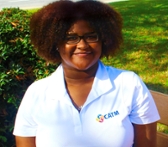 McCray, of Raleigh, North Carolina, has been a member of the Blue and Gold Marching Machine throughout her time at A&T. She is in the University Honors Program and has been a CATM Transportation Scholars Award Recipient for the 2019-2020 and 2020-2021 academic years. She also served on the executive board for the NCAT Association for Supply Chain Management, focusing on marketing and recruitment. She plans to attend graduate school while also working in a logistics or operations management role.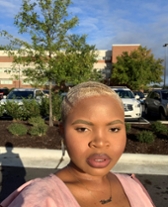 Park, of Seat Pleasant, Maryland, is originally from Georgetown, Guyana. With a 4.0 GPA, she is a member of Alpha Lambda Delta Honors Society, Beta Gamma Sigma Business Honors Society and the Caribbean Student Association.
 Miles Staton, of Greensboro, is a United Negro College Fund Best Buy Scholar. He plans to graduate from A&T in 2022.
 Thompson, of Charlotte, North Carolina, serves as Miss Senior in the Student Government Association and secretary of the American Society of Civil Engineering. She has also been the secretary and treasurer of Tau Beta Pi, an engineering honor society.
The DDETFP local competition is designed to stimulate interest among students attending a minority-serving institution of higher education or community college to conduct transportation-related research, pursue transportation-related degrees, enter the transportation workforce and enhance the breadth, scope and diversity of knowledge of the entire transportation community in the United States.
It provides funds for students to pursue associate, bachelor, master and doctoral degrees in transportation-related fields. The awards are given on the basis of merit considering academic records, class standing, GPA, transcripts, transportation work experience and personal recommendations.