The COVID-19 pandemic has posed significant challenges to North Carolina agriculture, but farmers and industry leaders have been able to overcome them, thanks to hard work and a little creativity.
That was the message of N.C. Commissioner of Agriculture Steve Troxler and assistant commissioners in the N.C. Department of Agriculture and Consumer Services (NCDA&CS), Joe Reardon and Alexander "Sandy" Stewart. 
The three agriculture leaders were the panel for a Sept. 21 discussion about issues in agriculture and policy, the first of three involving the NCDA&CS planned for the College of Agriculture and Environmental Sciences (CAES). Students, faculty, Extension staff and other members of the CAES attended the first online discussion and question and answer session, mediated on Zoom by senior Dallas Cooks, president of N.C. A&T's chapter of Minorities in Agriculture, Natural Resources and Related Sciences (MANRRS).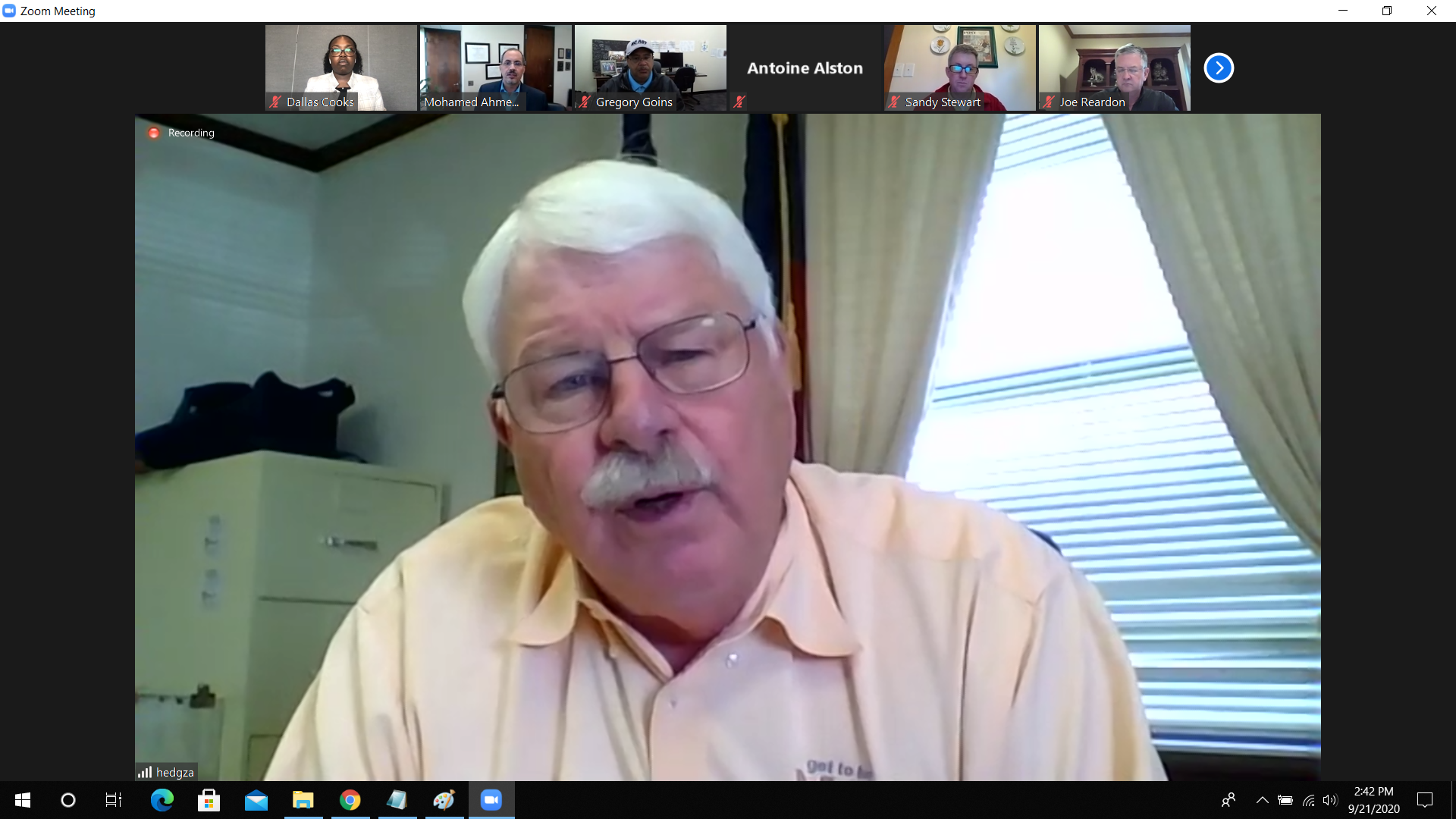 The second forum will be held via Zoom on Oct. 5, and will focus on the NCDA&CS's role in food security. The third, set for Nov. 9, will discuss the future of American agriculture.  
The department's response to COVID-19 is based on the needs of the state's farmers and consumers, the leaders said.
"There's no playbook for a global pandemic. We had to make decisions and adjust quickly to help our farmers," Stewart said. "We had to find new ways for buyers and sellers to match up in the new climate."
The "public-facing" programs, such as the four state farmers markets, were among the first to be re-imagined in light of COVID-19, said Stewart. With thousands of visitors each week, issues of how to stay open safely came to the forefront quickly – particularly since the markets filled a necessary void.
"In the beginning, grocery stores' supplies were shrinking, so more people than ever were looking to the farmers markets," Stewart said. "We invested in signage and handwashing stations, and changed the foot traffic flow from the big center aisle to directional signs to move traffic in just one direction. We also required masks for vendors and visitors.
Truckload sales also filled the voids of available groceries and saved growers from losing sales, Stewart said. Businesses such as House of Raeford Farms in Rose Hill, N.C., one of the country's largest poultry suppliers, retooled to sell chicken by the box from tractor trailer trucks, directly to the public.
"Many of our operations are set up to serve restaurants, and those were all closed back in March," Stewart said. "We sold five million pounds of chicken directly to the public from the tractor trailers."
When it came to internal services, Reardon said, his team worked to make sure that food workers and delivery personnel were identified and able to perform their jobs, which had been designated as necessary by the governor.
"We had Plexiglas, staggered shifts and followed all the CDC guidelines in the facilities, and educated everyone about issues like cross-contamination," Reardon said. "We also ordered such things as placards for the windshields of our trailers to make sure everyone knew who those necessary employees were and that our food supply could continue to move."
Reardon's department also "played mediator" between local and state regulators and tested food products to ensure their safety. 
"The last thing we wanted was unsafe food products in the marketplace," Reardon said. "We've worked with public health officials, the industry, the USDA and the FDA to make sure that our products are safe and avoid a food insecurity issue."
Some of the money the state received from the national Coronavirus Aid, Relief and Economic Security (CARES) Act will go toward getting food transported to market in a timely way, also. Reardon said that the department will invest $24.4 million in the state's seafood and dairy industries.
The department has also worked to salvage what it could of two iconic events that were canceled this year: the State Fair in Raleigh and the Mountain State Fair in Fletcher.  
"We looked at ways to pare them down and try to hold those events safely, but there wasn't a good way," Troxler said. "Folks have shown some creativity with virtual livestock shows, and the Drive-Thru Fair Food event was a success earlier this month. We've also given some of our food vendors the chance to link to us on social media and give potential customers a way to find their products."
The State Fair department has also teamed up with the N.C. Pork Council to offer a State Fair T-shirt, this year emblazoned with the words "So Un-Fair."
Although many would agree with that assessment, the department has learned much from the pandemic, Stewart said.
"There's a lot that we'll continue to do, even after COVID is gone," he said, citing the use of platforms like Zoom, which can be used to connect buyers and sellers in different parts of the country and the world. "At the end of the day, we'll be more efficient, and more proactive, than ever before."