N.C. A&T Receives $550K NSF Award to Establish a Network of Self-Driving Shuttles
By Alexander Saunders / 09/08/2020 College of Engineering
EAST GREENSBORO, N.C. (Sept. 8, 2020) – An interdisciplinary research team at North Carolina Agricultural and Technical State University has received $550,000 from the National Science Foundation (NSF) to establish a Testbed of Connected Autonomous MicroTransit Vehicles. This funding is in addition to the $235,000 contribution from A&T's College of Engineering (COE), Downtown Greensboro Incorporated (DGI) and North Carolina Department of Transportation (NCDOT), for an overall investment of $785,000. 
This Major Research Instrumentation (MRI) award supports the acquisition of a state-of-the-art autonomous testbed consisting of three self-driving shuttles, along with the required sensing and communication networks. The award will provide a multi-user flexible and configurable research platform that enables fundamental research in development, deployment and validation of Connected Autonomous Vehicle (CAV) technologies. The autonomous fleet will be tested at the one-mile track at the North Campus Gateway Research Park.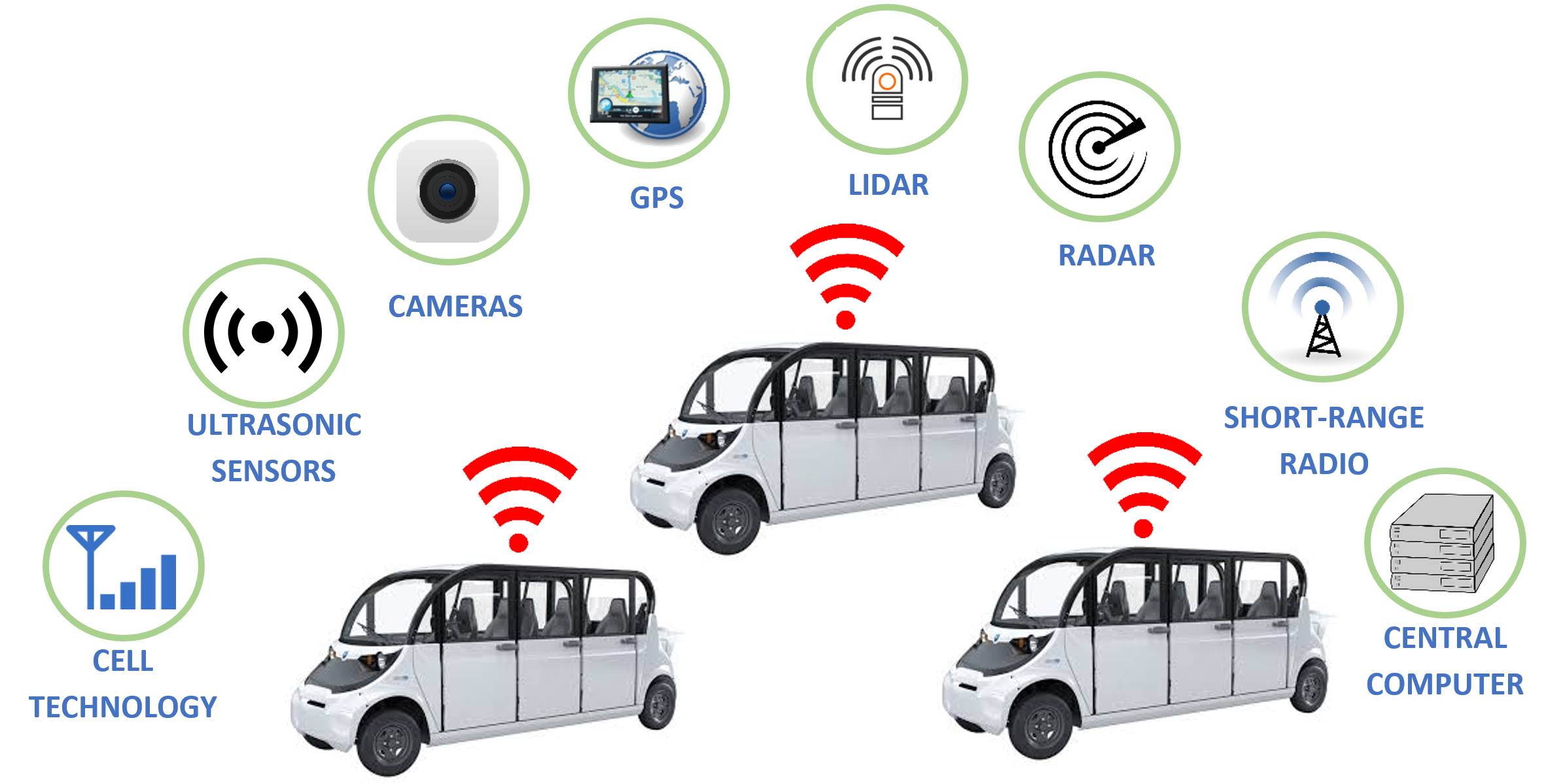 "The proposed testbed leverages autonomy and transportation research capabilities at A&T and enables exciting new collaborative research capabilities," said Ali Karimoddini, Ph.D., an associate professor of electrical and computer engineering. "Groundbreaking research on vehicles connected to a network is becoming increasingly important to the future of public transportation."
This research infrastructure will enable partnerships between regional and national collaborators in academia, industry and at national labs in order to advance networks of autonomous vehicles.
"The MRI award is part of the impressive portfolio of groundbreaking autonomy research being led by our College of Engineering faculty. I am proud of the critical roles our faculty, students and partners play in solving transportation and mobility issues for the state and the nation," said Robin Coger, Ph.D., COE dean.
The NSF grant aims to increase research, education and training opportunities for A&T researchers, particularly women and minorities, in transportation-related research. The project will also promote K-12 STEM education through collaborations with high schools in the surrounding community. In addition to increasing awareness of CAV technologies and their benefits to the general public, the researchers will partner with the local community, including downtown Greensboro, for public demonstrations of the testbed in operation in the downtown area.
The research team is led by Karimoddini, who also serves as the director of the NC-CAV Center of Excellence in Advanced Transportation Technologies. He will collaborate with COE colleagues Abdullah Eroglu, Ph.D., Balakrishna Gokaraju, Ph.D., Abdollah Homaifar, Ph.D., Steven Jiang, Ph.D., John Kelly, Ph.D., Daniel Limbrick, Ph.D., Mahmoud Mahmoud, Ph.D., and Ioannis Raptis, Ph.D. Additional researchers include College of Science and Technology faculty members Leila Hashemi Beni, Ph.D., and Evelyn Sowells, Ph.D., and Willie A. Deese College of Business faculty member Maranda McBride, Ph.D.