N.C. A&T Engineering Faculty Awarded $449K to Futurize Naval Communications Equipment
By Alexander Saunders / 09/18/2020 College of Engineering
EAST GREENSBORO, N.C. (Sept. 18, 2020) – A team of undergraduate, graduate and faculty researchers in the Department of Electrical and Computer Engineering (ECE) at North Carolina Agricultural and Technical State University won a highly competitive $449,052 grant from the Department of the Navy's HBCU/MI program to collaborate with the Navy on improving radio frequency (RF) communication systems. The research will use gallium nitride (GaN) device technology to create smaller and more efficient solid state-based RF amplifiers. 
To accomplish this goal, the researchers must develop innovative solutions to expand the power capacity of solid state semiconductors for the benefit of
cutting-edge naval applications. 
Such achievement could create a ripple effect of new solutions for more powerful communication devices, resulting in the development of optimal devices for the Navy's platforms and other applications. 
The Navy uses semiconductor devices to enable a wide range of critical communication devices, including 5G wireless communication systems, logistics, imaging, drone systems and naval detection and radar systems. As the Navy employs an increasing number of smaller devices across the globe, reducing the size of the equipment becomes a necessity, as does increasing the speed and efficiency of the devices.
"RF research is one of the areas of strength in our department," said Abdullah Eroglu, Ph.D., ECE department chair. "The solution we are pursuing with this Navy grant is how to most efficiently and effectively amplify communication signals within the target frequency ranges of military operations." 
Eroglu, who has spent more than eight years as a senior RF design engineer, is the principal investigator on the grant and is working with five students.
Like his faculty advisor, first-year Ph.D. student Clem Shelton has also worked in industry and is grateful to be back at A&T, where he attended as an undergraduate student.
"I hope with this research opportunity, I'll be able to pass along my experiences to the rest of the team," said Shelton. "We really are building the perfect team for this project."
The team is in the beginning stages of the three-year research project and looks forward to exploring the many challenges and nuances of making such a device more powerful and better suited to amplify communication systems, all while maintaining its size and efficiency.
"It's good to get a sense of what's going on in the industry and collaborating with researchers. It truly is a great learning experience," said Mikhial Guggemos, an undergraduate electrical engineering student who is working on the project.
By working hands-on with real-world problems and collaborating with researchers who have experience in the industry, College of Engineering undergraduate students like Guggemos are better prepared for the next phase of their careers after graduation.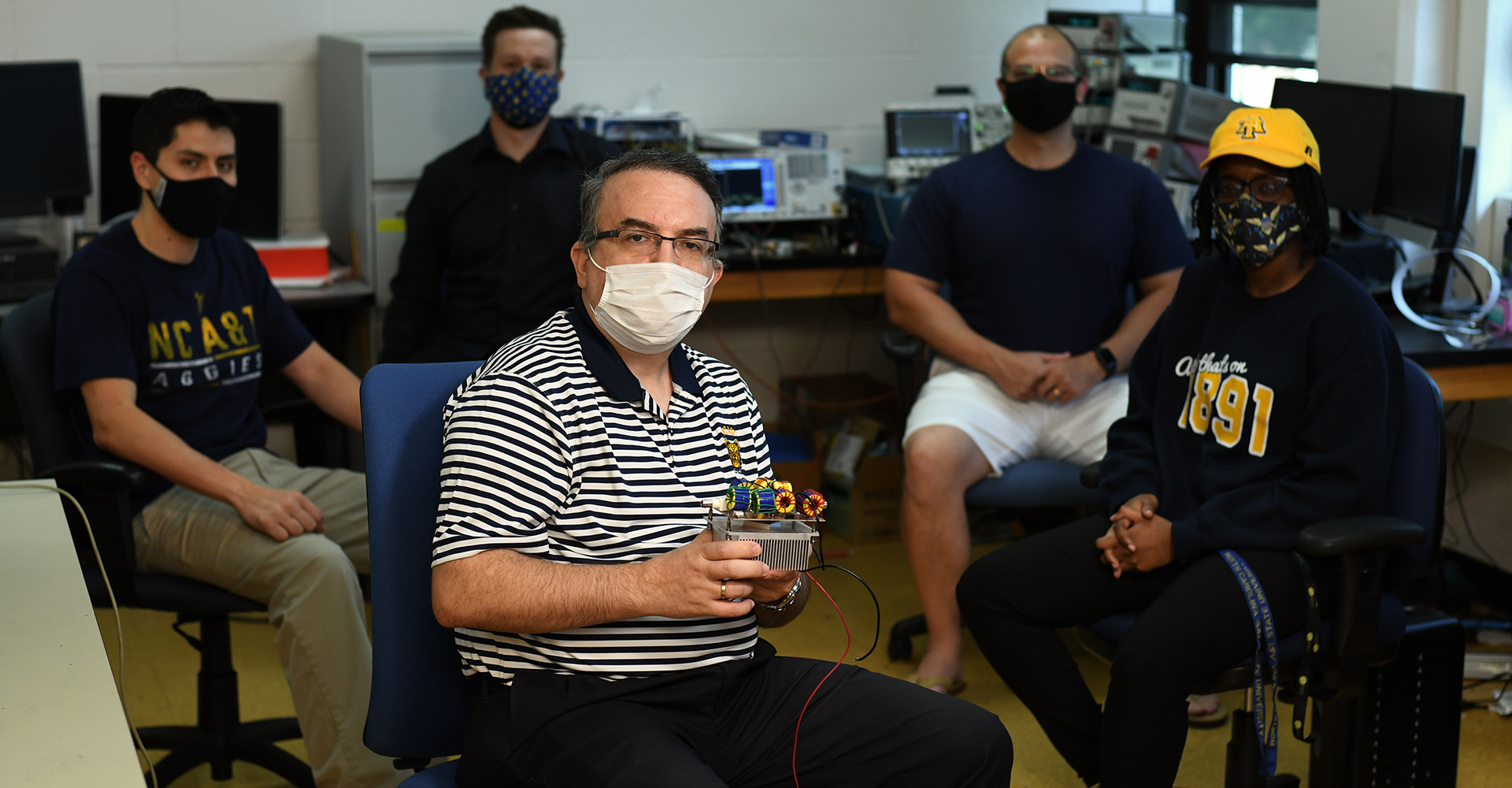 Joining Eroglu, Shelton and Guggemos in this groundbreaking RF research are undergraduate electrical engineering students Felisse Alexander and Dorant Smith and Emilio RuizLinares, who is pursuing his M.S. in electrical engineering.