EAST GREENSBORO, N.C. (Feb. 28, 2020) – North Carolina Agricultural and Technical State University hosted 34 Verizon Innovative Learning program mentors and directors Feb. 21 as part of the National Association for Community College Entrepreneurship's (NACCE) Mentoring Professional Development Institute.
The inaugural institute is part of an ongoing partnership with Verizon Innovative Learning to provide holistic workshops that focus on empowering and developing mentors professionally, personally, socially and culturally.
The group toured the International Civil Rights Museum prior to the on-campus sessions, which included training on program logistics, entrepreneurial mindset cultivation and mentoring skills.  
N.C. A&T has partnered with the program since 2015 to address barriers to digital inclusion by exposing local students to STEM majors and careers, technologies and entrepreneurship, and has been recognized by the program for excellence in mentoring.
"Effective mentoring is essential to building positive relationships with our program participants and supporting them as they navigate not only their classrooms and future careers, but also their everyday lives," said Clay Gloster Jr., Ph.D., interim vice provost for graduate research and dean of the Graduate College. "Developing and equipping program mentors with skills and best practices can help us make a lasting impact on these young men."
The Verizon Innovative Learning program provides free technology, internet access and curriculum through its partnership with education experts to offer STEM-focused programs and activities. The mentors and program directors in attendance represented institutions that serve on the Young Men of Color Mentoring Council.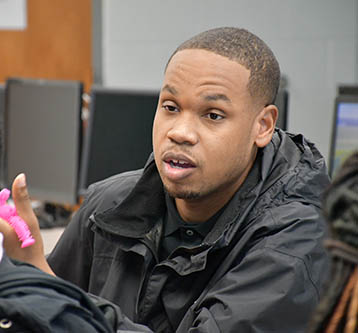 "I really feel like this is an excellent stepping stone for me professionally," said Chad Armstrong, a mentor serving students who attend VIL programming at N.C. A&T. "I was able to identify goals that I could work toward to become an even better mentor."
The institute culminated NACCE's celebration of National Entrepreneurship Week.