EAST GREENSBORO, N.C. (Feb. 17, 2020) – North Carolina Agricultural and Technical State University announced Steven D. Cook '82 '85 has been named a scholar-in-residence at the Center of Excellence in Cybersecurity Research, Education, and Outreach (CREO) and Sandra K. Johnson, Ph.D., has been named a visiting scholar at the Center of Excellence in Entrepreneurship and Innovation and CREO.
Cook, who earned his B.S. and M.S. in electrical engineering, most recently served the National Security Agency as technical director for the Laboratory for Analytic Sciences (LAS), a collaborative and translational research enterprise at N.C. State. He was responsible for shaping multidisciplinary groups of academia, industry and intelligence community researchers, analysts and leaders to design novel solutions aligned with the mission of the U.S. intelligence community and government.
During his 40-year career, Cook also has been an LAS leader in outreach to historically black colleges and universities, in addition to participating in community service projects that introduce STEM programs to K-12 students.
"Having alumnus Steve Cook on our campus as a visiting scholar to lend his expertise in intelligence and national security is groundbreaking for us," said Dr. Tonya Smith-Jackson, senior vice provost for academic affairs. "Our inclusive approach to cybersecurity and the resources we have invested in CREO position N.C. A &T as a unique, impactful contributor to the nation's security and defense."
Johnson is the founder, CEO and chief technical officer of Global Mobile Finance Inc., a financial technology startup established in 2018 that is developing geeRemit, a global remittance mobile app based on blockchain technology and mobile money. She also serves as CEO of SKJ Visioneering, which provides consulting and services with a focus on information technology best practices, infrastructure development, , innovation and invention.
With 37 patents to her name, related to research and technology, Johnson is an Institute of Electrical and Electronics Engineers (IEEE) Fellow, Association for Computing Machinery (ACM) Distinguished Engineer and member of the IEEE Computer Society, IEEE Women in Engineering, ACM, and Women in Technology International.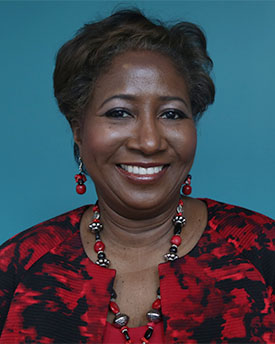 "Sandra Johnson's contributions as a visiting scholar will help to advance our intellectual climate around mobile finance, , data communications and data engineering," said Smith-Jackson. "Her work and entrepreneurial leadership in various countries and regions including Sub-Saharan Africa demonstrate her talent in inclusive technology and design. This talent allows N.C. A&T's Centers of Excellence to expand our inclusive research and development expertise."
CREO is an inclusive community of stakeholders distinguished by interdisciplinary and innovative approaches that translate knowledge into solutions for cybersecurity challenges, while the Center of Excellence in Entrepreneurship and Innovation fosters entrepreneurial thinking across the university, working closely with its eight colleges and the other units of the entrepreneurial ecosystem on campus.
"Both visiting scholars will work closely with the Centers of Excellence in Cybersecurity Research, Education and Outreach, Entrepreneurship and Innovation, and Product Design and Advanced Manufacturing in our goals of teaching and research excellence to prepare the our students to create systems and produce knowledge to address 21st century challenges," said Smith-Jackson.
The centers, including the Center of Excellence in Post-Harvest Technologies, were born of N.C. A&T's updated strategic plan and commitment to outstanding quality in research, teaching and community engagement consistent with the university's land-grant mission.