Aggies on the Bluff = Homecoming 2.0
By Tiffany S. Jones / 12/21/2019 Alumni
ATLANTA, GA (Dec. 21, 2019) – While thousands of fans filed into Mercedes Benz stadium for the third installment of North Carolina A&T Aggies vs. Alcorn State Braves, in a parking lot across the street at the corner of Northside Drive NW and Magnolia Street, some 200-plus Aggie alumni and friends enjoyed a good old fashioned tailgate – Aggies on the Bluff.
Music was blasting, drinks were flowing, hugs were plentiful and on the side of the action was Jabari Walthour manning a grill. According to his wife, this is nothing out of the ordinary.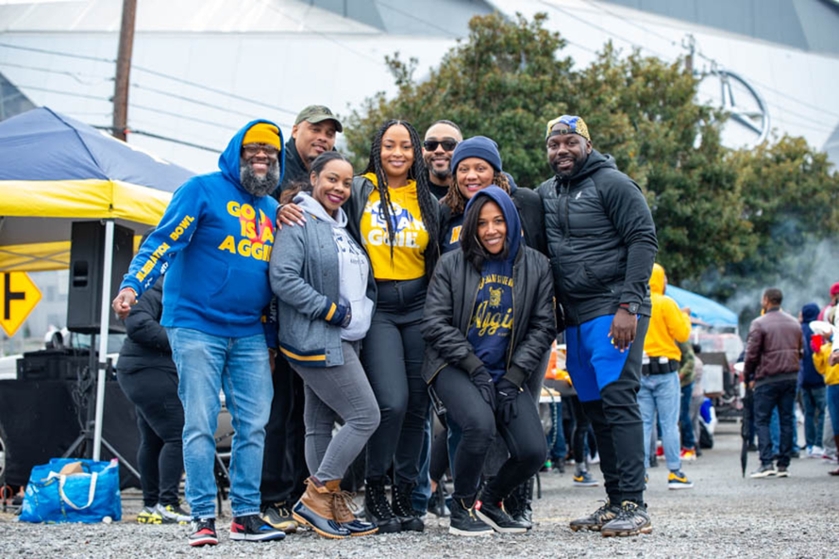 "It really is a family barbecue," said Stephanie Walthour. "It started out as a family thing with our friends, sorors and frat brothers from the classes of '04, '05 and '06, then it started growing."
It has grown into what Mrs. Walthour calls, "Homecoming 2.0" and "Homecoming South."
"It's a great opportunity for some of the people who couldn't make homecoming to get a chance to see everyone," she said.
Lindsay LaBennett '05 agrees.
"It really is the continued fellowship that carries over from homecoming," she said. "It's Aggie Pride personified."