N.C. A&T Centers of Excellence Host Grant Proposal Writing Workshop
EAST GREENSBORO, N.C. (Sept. 30, 2019) – Approximately 100 faculty members at North Carolina Agricultural and Technical State University dedicated a full day to gain further insight on how to write grant proposals that will persuade federal agencies to fund their respective research projects.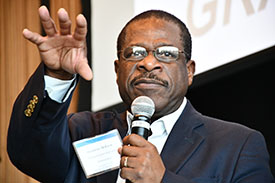 The workshop was designed to sharpen participants' skills and provide them with essential tools, including an interactive workbook that offers step-by-step guidance through the proposal process. 
"We want to be known as a leading university for research innovation and productivity," said Thaddeus McEwen, Ph.D., interim director of the Center of Excellence in Entrepreneurship and Innovation. "We must continue to support faculty members and empower them to take charge and embrace this responsibility."
The workshop, co-sponsored by the Centers of Excellence in Entrepreneurship and Innovation, Cybersecurity, and Product Design and Advanced Manufacturing, was presented by Grant Writers' Seminars and Workshops consultant John Robertson, Ph.D.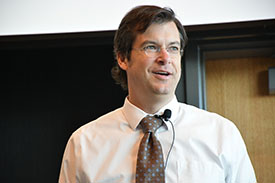 Robertson has expertise as a grant review panelist and has received competitive funding from both the National Institutes of Health (NIH) and other non-federal sources. He primarily focused the presentation on securing funding from the National Science Foundation (NSF) due to participants' research interests. 
"The annual budget for the National Science Foundation is approximately $9 billion," said Robertson. "And on average, the funding agency accepts 10 to 15 percent of grant proposals."
He encouraged attendees to be relentless, persistent, and prioritize and schedule the necessary time it takes to write winning proposals.
The response for registrations was overwhelming, which indicates the desire of N.C. A&T faculty to remain ahead of the curve in securing funding for innovative research.