Cheatham-White Scholars Program
Prospective students are invited to join North Carolina A&T as a Cheatham-White Scholar. The program draws some of America's most high-achieving students ready to spread their wings on a campus widely known for its national leadership in science, technology, mathematics and engineering disciplines, as well as liberal arts and business studies, and recognized as the country's largest historically black university.
2023 Cheatham-White Scholar Recipients
2022 Cheatham-White Scholar Recipients
2021 Cheatham-White Scholar Recipients
2020 Cheatham-White Scholar Recipients
2019 Cheatham-White Scholar Recipients
What is the Cheatham-White Scholarship?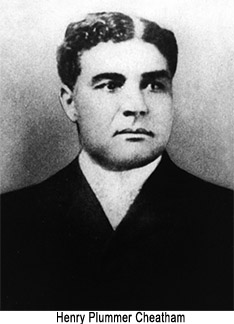 This award is named in honor of Henry P. Cheatham and George H. White, two African Americans who represented North Carolina in the United States Congress around the turn of the 20th century. From difficult beginnings – Cheatham was born a slave and White was the son of an unnamed mother whom historians say was perhaps also a slave – each worked hard to earn a university education before launching careers in teaching, law and ultimately public service. Cheatham was elected to Congress first, in 1888, and White in 1896. The State of North Carolina honors their legacies through this scholarship program.
Details of the Award
The Cheatham-White Scholarship provides an outstanding educational experience for students who are exceptional scholars, as well as versatile and well-rounded individuals. Cheatham-White Scholarships will be awarded to students with a broad range of interests, proficient in areas of both the arts and sciences, who demonstrate leadership potential and a strong commitment to service.
Each recipient will be awarded a fully-funded four-year scholarship that covers the costs of all of the following: tuition, student fees, housing, meals, textbooks, a laptop computer, supplies, travel and personal expenses. Each scholarship also provides four summers of fully funded enrichment and networking opportunities that may include international travel and study. It is truly a complete award, meant to recognize academic achievement and potential at the highest levels.
Eligibility and Selection Criteria
To be eligible for selection as a Cheatham-White Scholar, an applicant must satisfy all of the following criteria:
Apply for admissions as a first year freshman for the fall semester in pursuit of a baccalaureate program at North Carolina A&T.
Submission of Honors College application to include school or self endorsed nomination.
Be a United States citizen or permanent resident.
Be on course to graduate from high school in the spring semester prior to college admission.
Minimum 4.00 or higher weighted cumulative GPA.
Minimum scholastic test score of 1280 SAT or 28 ACT (test optional).
Show exceptional qualities of character and leadership.
Be significantly involved in extracurricular activities.
Demonstrate a strong commitment to service.
Candidates for Cheatham-White Scholarships shall be selected on the basis of merit, with all of the above criteria taken into account. Financial need shall not be a consideration.
Expectation of Recipients
Scholarships will be renewable contingent upon the following:
Maintaining a 3.5 cumulative GPA annually.
Enrolling full time each semester and earning a minimum 30 credit hours each academic year.
Maintaining membership and active participation in the Honors College.
How to Apply
Applicants should complete an application through the Honors College Application Portal for consideration and review the important dates calendar.