College of Arts, Humanities and Social Sciences
About the Dean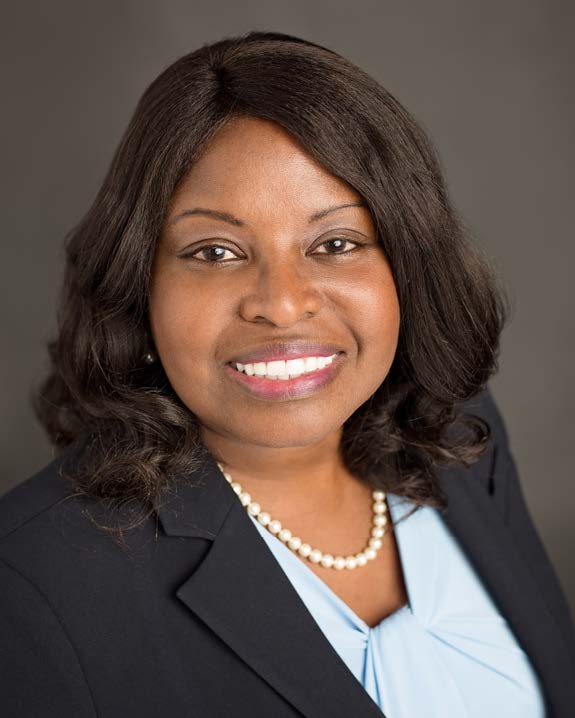 An accomplished faculty member and administrator, Frances Ward-Johnson was named dean of North Carolina A&T's College of Arts, Humanities and Social Sciences on July 1, 2018, following a two-year national search.
Ward-Johnson served in various leadership roles and as a tenured faculty member at Elon University for 15 years, most recently as Faculty Fellow for Leadership in the Provost's Office, where she championed the institution's commitment to leadership education. She twice assumed the interim role of department chair in Elon's School of Communications and served as associate department chair for five years.
She co-chaired Elon's Presidential Task Force on Black Student, Faculty and Staff Experiences, and served as an Academic Service-Learning Faculty Scholar in the Kernodle Center for Service Learning and Community Engagement and Coleman Foundation Faculty Entrepreneurship Fellow in the Love School of Business. She co-led study abroad programs to Barbados and Greece and taught a domestic study away course for many years where she led students on a tour of the Deep South to study civil rights and leadership.
Ward-Johnson is an alumnus of N.C. A&T, where she earned both her bachelor's and master's degrees. She holds a doctoral degree from the University of North Carolina at Chapel Hill and is a graduate of the Institute of Management and Leadership in Education at Harvard University.
Before her tenure at Elon, Ward-Johnson was a faculty member in the Department of Journalism and Mass Communication at N.C. A&T. Prior to that, she served as the internal and external communications manager for the Center for Creative Leadership, one of the world's top providers of leadership development and executive education, headquartered in Greensboro. 

She is a former staff writer at the Greensboro News and Record, the Wilson Daily Times and The Associated Press.
Ward-Johnson is the recipient of outstanding teaching, scholarship and service awards from the Association for Education in Journalism and Mass Communication's Minorities and Communication Division, where she served as division head. She was selected as National Advisor of the Year for Lambda Pi Eta Honor Society by the National Communication Association and is the recipient of the Faculty Member of the Year Award from the African/African American Studies Program at Elon. She received the Excellence in Teaching Award from Elon's School of Communications and was selected as a Journalism Institute for Diversity Fellow, one of nine educators nationwide chosen for a year-long fellowship with AEJMC.
A former board member of the Public Relations Society of America's local Tar Heel chapter, Ward-Johnson is accredited in public relations and has served on the New York-based Universal Accreditation Board, the leading certification body for the public relations profession.

Ward-Johnson's research primarily focuses on women and ethnic minorities in the media. She has published in multiple venues, including Partnerships: A Journal of Service-Learning and Civic Engagement, Journal of New Communications Research, Public Relations Strategist and Public Relations Tactics.