Commencement Stories
By Tonya D. Dixon / 12/06/2021
Devin Henry, Master of Science, Adult Education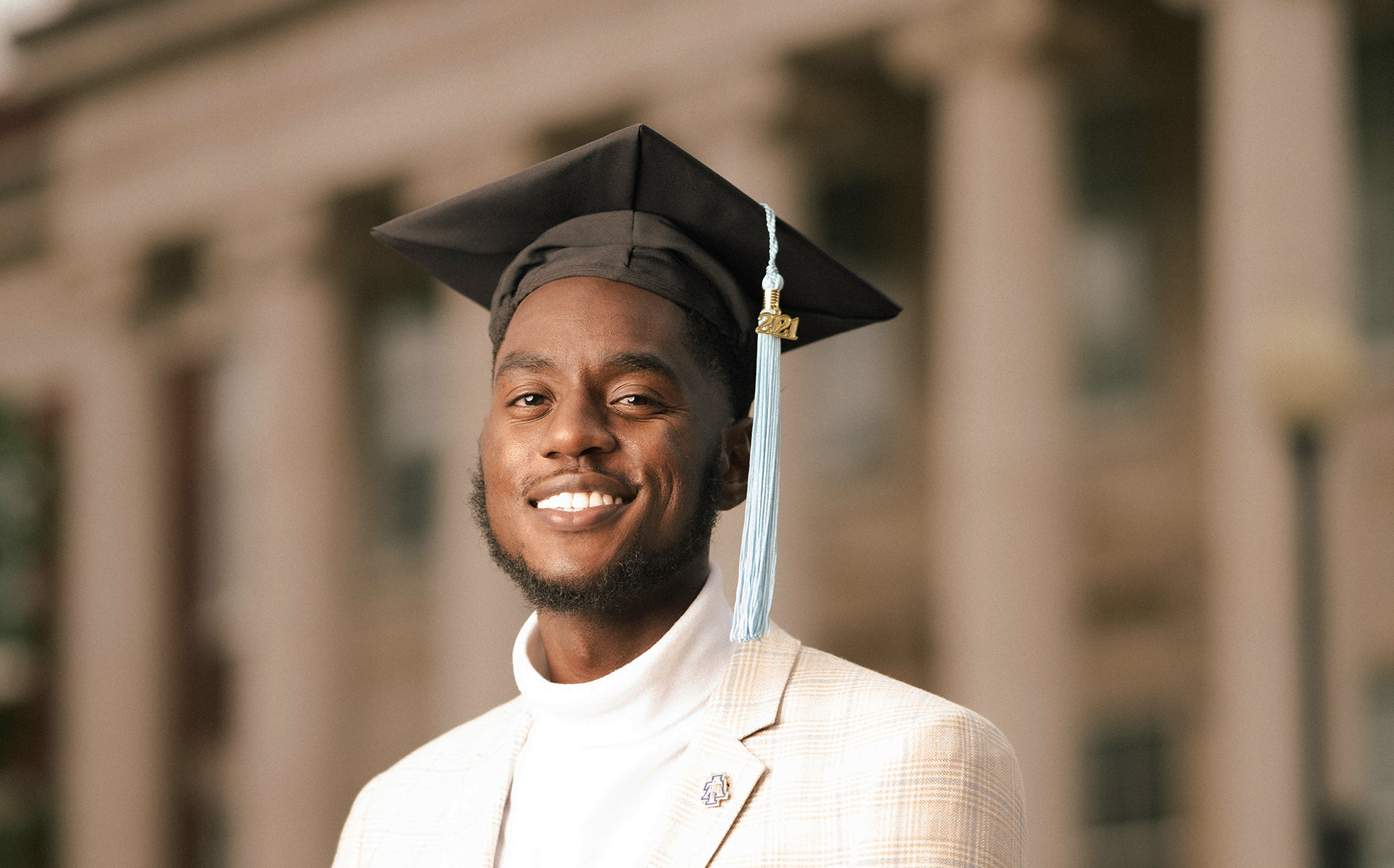 I received my bachelor's in Public Relations from A&T. Then I went straight to grad school because the pandemic had just hit and companies didn't know what they were going to do regarding job placements. And not to be dramatic, but I literally applied to 60 jobs. I always wanted to go back to school. I didn't think I would go back this soon, but I decided to use the time as an opportunity to get ahead.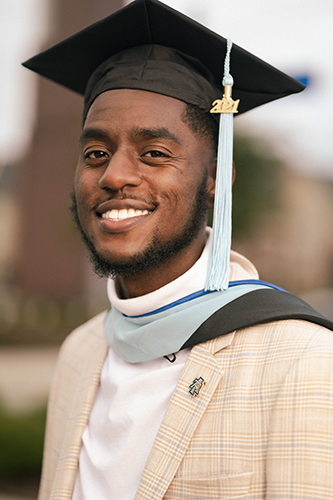 I started getting plugged into higher education and learning more about administration. I decided I would like to be in some of those seats someday. I'm looking at possibly becoming a president of an HBCU. Funding, community resources, education, policy, it all requires a hands-on approach and I'm really honed in on those components. Additionally, I'm looking to elevate the level and number of black men in those spaces. There aren't enough black men in education, particularly in higher education. To see men like Chancellor Martin and his excellence, I'm encouraged. It gives me something to model. Black men in education are important. To take it a step further, I'm exceptionally focused on equity in education. I didn't receive some of the resources in education that I could have because it wasn't exposed to me. After getting my first degree, I'm much more aware and I can tell other people that certain opportunities exist. 
I have the momentum, so I've decided to go directly into getting my Ph.D. I never thought this would be my track, but being at A&T has shown me there are possibilities and spaces open to me that I've never even considered.
The Journey Toward the Degree: N.C. A&T Students Share Their Stories 
EAST GREENSBORO, N.C. (Dec. 6, 2018) – On Saturday, Dec. 11, 2021, more than 1300 North Carolina Agricultural and Technical State University students will be awarded degrees across many different disciplines.  
These students are more than a number. They represent great stories of, perseverance, dedication, academic excellence, innovation and achievement. Their stories are as diverse as their academic interests.  
Today and throughout the week, the university will feature brief student stories, highlighting their N.C. A&T experience as well as their future aspirations. While there are hundreds of stories to be told, they represent the diverse intellectual climate, entrepreneurial spirit, civic engagement and academic excellence that embodies the university's land-grant mission.  
Make sure to also visit our  Facebook and Instagram channels through Sunday, Dec. 12, as students share their "Journey Toward the Degree."
Sierra Smith, Elementary Education with a Corollary in Diverse Learners.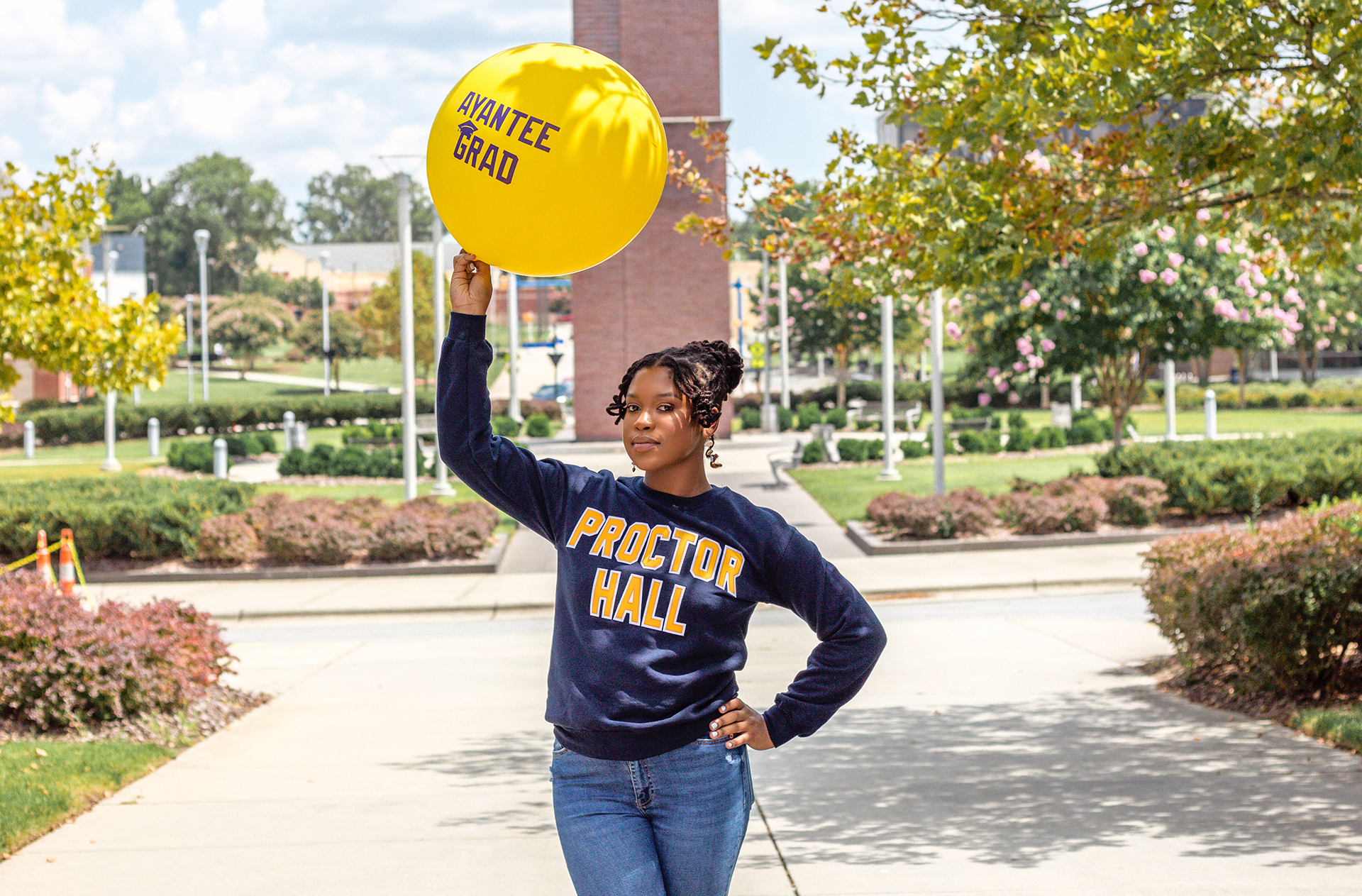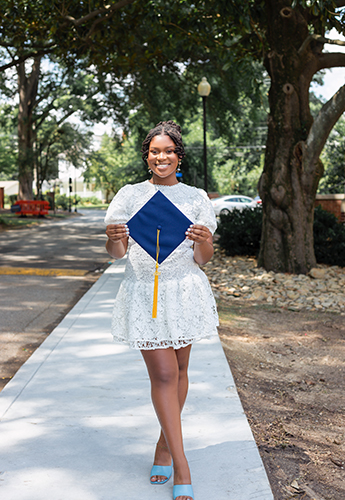 "The local elementary school I was assigned to complete my student teaching experience had a teacher shortage. Many schools across the country are tackling this same issue because of the pandemic. I was asked to step up and teach 3rd-grade full-time to cover one of the vacancies. Imposter syndrome immediately kicked in and I doubted my ability to serve in this capacity. Nevertheless, I went for it. I was able to pass all my licensure exams. 
The moment I walked into my classroom; I knew what to do. The space felt familiar, even though it was my first time solely leading a group of students. I instantly felt prepared. Everything I learned over the 3.5 years of pursuing my degree came to me like a rushing wind. The professors in the College of Education are hands-on, transparent and passionate! They encourage us to teach in settings where we are needed the most. We graduate having a real understanding of what access, inclusion and equity look like in the classroom and beyond. They prepared me for this moment even without my initial knowledge. 
Fast forward to now, my full-fledged student teaching experience taught me so much about myself. I learned that I want to stay in Greensboro and teach in my (home away from home) community. I learned that I can do anything I put my mind to. I realized that North Carolina A&T State University equipped me to be a mover and shaker in my community and the larger world. I will try my best every day to instill that same principle into my students."
James Tatum Jr., Business Information Technology.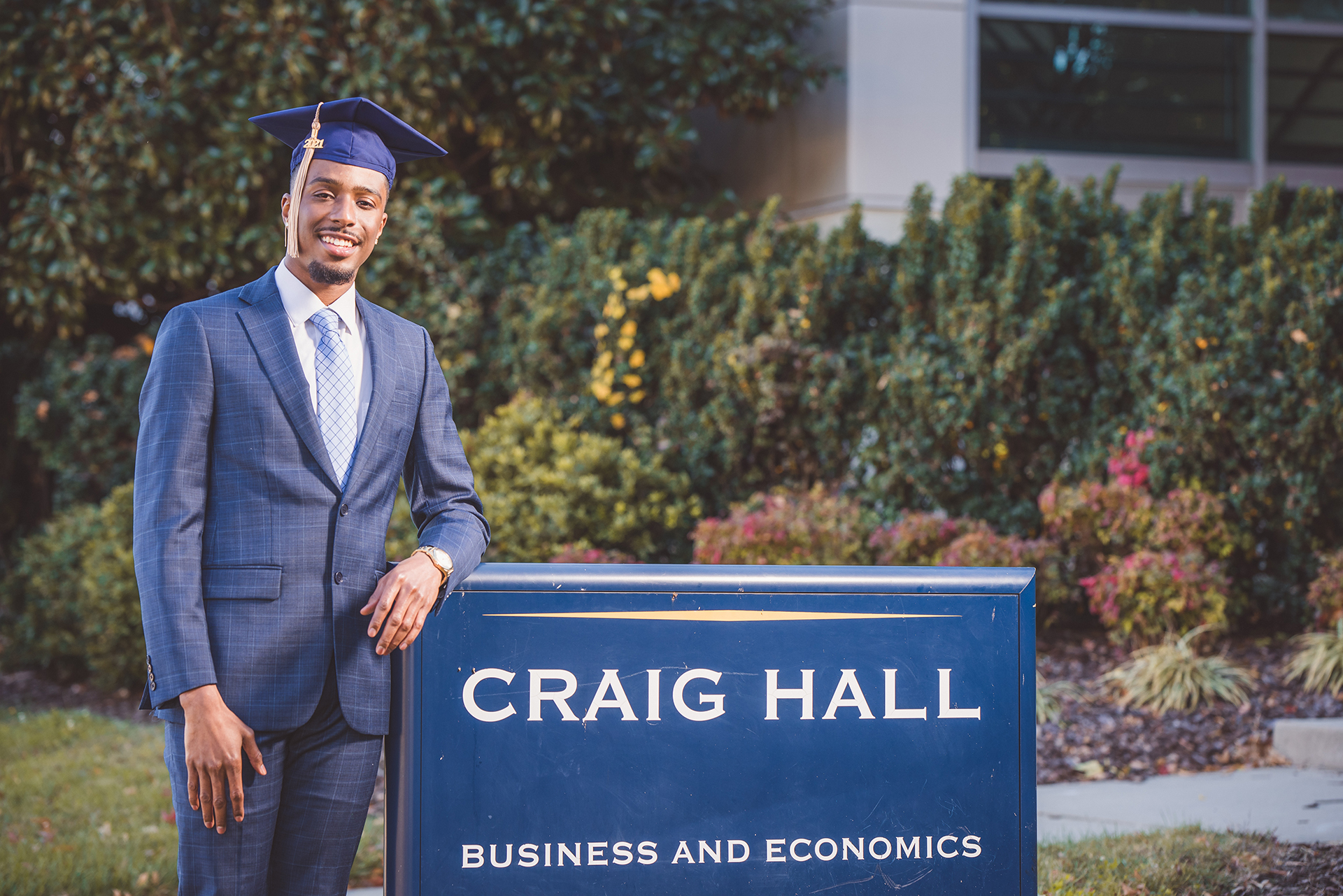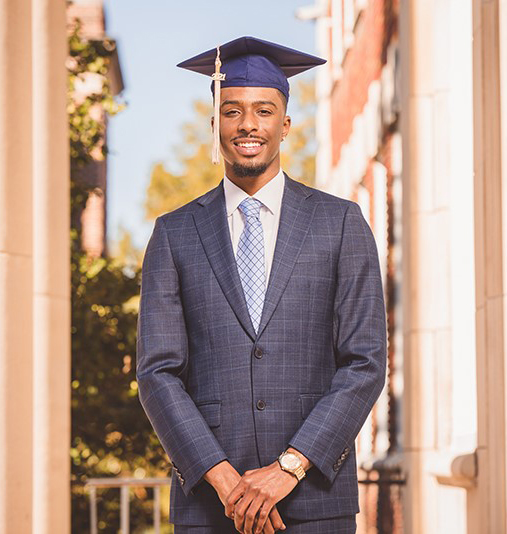 "My first year was great and I fell in love with the university. I had a 3.5 GPA. The following year is where everything went left. I faced so many personal challenges and was stressed juggling life and school. I put school on the back burner and it showed in my grades. A&T will tell you; this is your last chance. By the end of the year, I was academically suspended from the university. 
I spent the next two years working full-time at Chick-fil-A, not in school. Jan. 23, 2019, I ran into a lovely A&T faculty member while on a catering delivery [to the university] by the name of Dr. Cathy Cornelius. At the end of the delivery transaction, I said goodbye and "Aggie Pride." She asked if was a student or an alumnus. I told her neither and how I had flunked out and didn't think I would ever return. She responded: "Life happens and we all understand that, but I want you to finish what you started." 
She connected me with other faculty members like Dr. Owens-Jackson and they helped me with all the paper work. I was successful readmitted to the university the following fall semester. I had to get my GPA up and I did. COVID hit. I don't even like online classes. I failed a couple of those back in the day. But I was able to persevere through all of that. I was mature and I was determined to get my degree. I was shooting for A's because my GPA was low. My lowest GPA was 1.76. That was so embarrassing. That was my worst. But I've only made As and Bs since coming back.
I am proud to be able to finally walk the stage with a B.S. in Business Information Technology. I have accepted an offer as a Digital Consultant with NTT Data Services. I thought I would be a college dropout. A&T thank you for not giving up on me and giving this black boy another chance."
Monica Berba, Architectural Engineering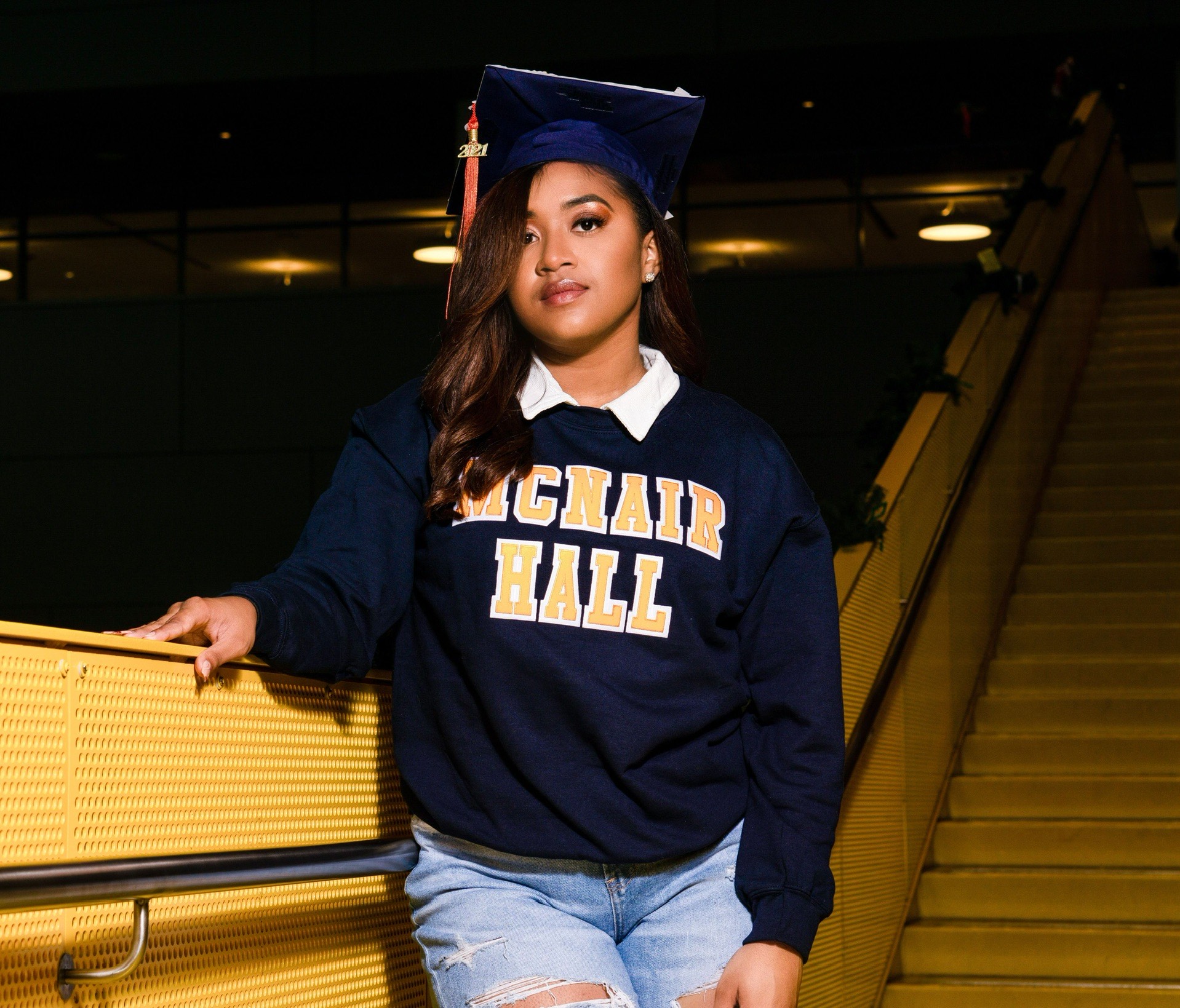 I knew I wanted to attend A&T since my first year of high school. My senior year I got that acceptance letter and thought I was set…until the day I received an email about tuition and when it was due. 
I'm a first-generation college student. I had no idea about how much school costs. I always heard people talk about it, but I never knew it cost that much. My family tried, but they really couldn't help. I had to figure out everything on my own. It was hard because I didn't know what I was doing. 
My mom always said God will make a way. He knows where you need to be. 
I just knew this was the route God wanted for me and I wasn't giving up. I had people in my ear everyday "maybe it's not meant to be."  At one point I shut out everybody. I thought, if you're not coming to me about anything positive, do not come to me. 
The last week came and my grandmother made a way. I submitted my tuition the day of the deadline. 
Since that day, I've pushed myself to be the best me and work day in and day out to never be in that position again. I got an internship with Whiting-Turner (interned there every summer). I got a job with UPS.
I knew being part time hourly wasn't going to work, so I just made sure I let them know as soon as I got there, I want to become a supervisor. If anything, it would help me build my resume and help me financially. Also, UPS helps pay tuition. I knew that that was the only way for me to pay for school.
I became a part time supervisor and continued to move up. I've been a full time Building and Systems Engineer at UPS this last semester. Basically, what I do is make sure that the building stays running.
 I thank God every day for giving me the strength to take on an engineering degree while working five days a week and two jobs during the summer to pay my way through school. I made it to the end when I thought I wouldn't even get through the beginning. God is my interesting story. If I wouldn't have kept my faith and continued to look to him for guidance, I would've never made it this far. 
UPS is interested in promoting me again and Whiting-Turner also offered me a full-time position in the Winston Salem office. That's where I really want to be because that's what I studied for and I really enjoy the construction side of everything.
[My grandfather] said, 'You know what? You made a good decision.' I was like, 'I know I tried to tell you.'"